Clone Pages and Blog Posts in One Click
Posted by Jake Lumetta on March 6, 2019
Hope you all had a great February! Thanks for the great reception to the support for audio files we announced in January. It's very cool to see all of your use cases and how you'll be utilizing that capability.
For February I wanted to let you know about a couple of big features we shipped. One is focused on the developer experience and the initial setup phase of Butter - making that more easier and more flexible. The other one is focused on the content managers - making it really easy to crank out bigger chunks of content with the ability to clone pages and blog posts. I'm going to walk you through both of these.
Let's start with the developer focused feature. Here is our page builder interface: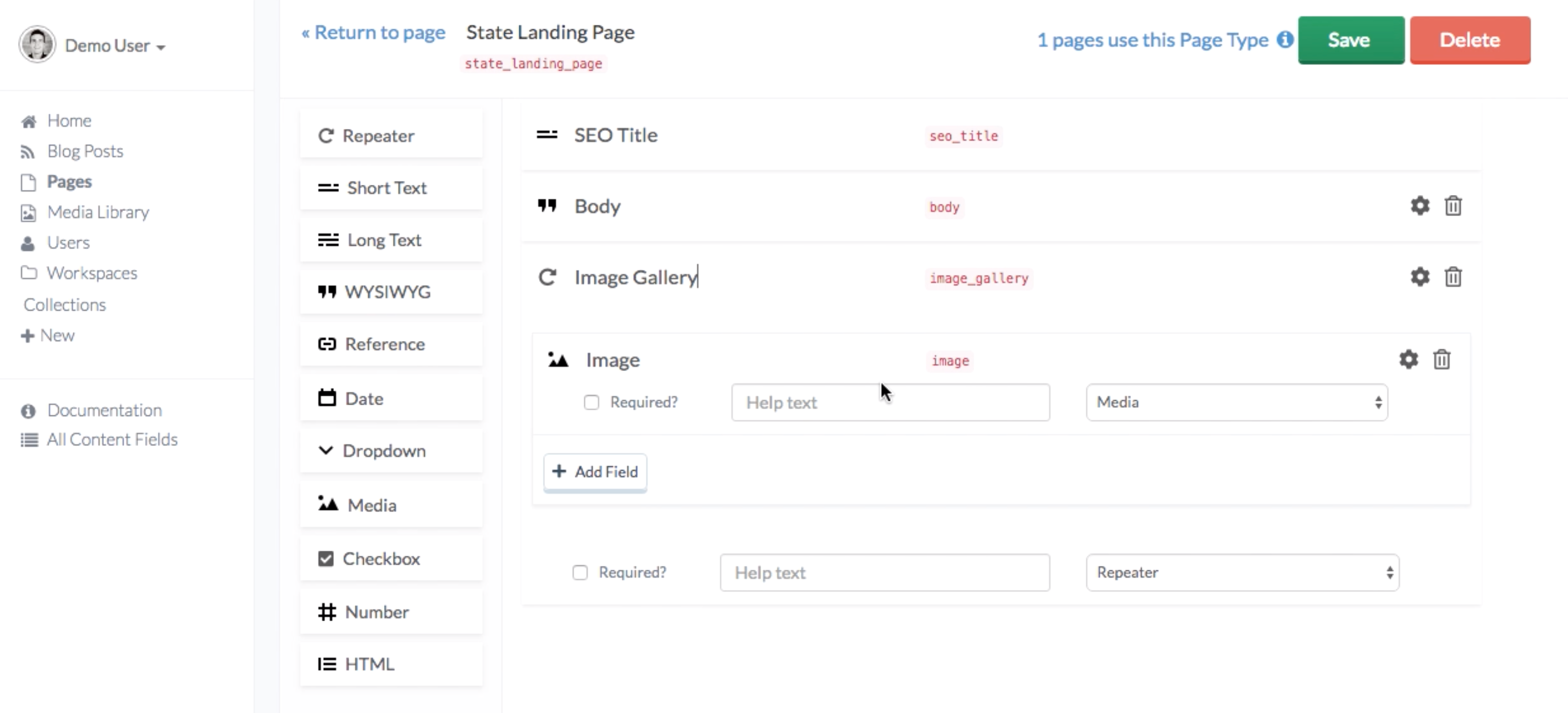 The column on the right is the UI you'll use to configure the content on your pages. If you're familiar with this interface, along the left hand side are all the different field types you can add to a page - consider them like building blocks of the page. For this example above, we have a State Landing Page - we're using Butter to power some of our key SEO pages for our site, and it just happens to be geographically focused. For each of our landing pages, we have a SEO title field, a body field and an image gallery. These slugs (the red identifiers) are the slugs that appear in the API response, and obviously very critical to developers. To make it really easy for you to interact with the API and fetch the content and parse it out of the response so that you can display it on your webpage.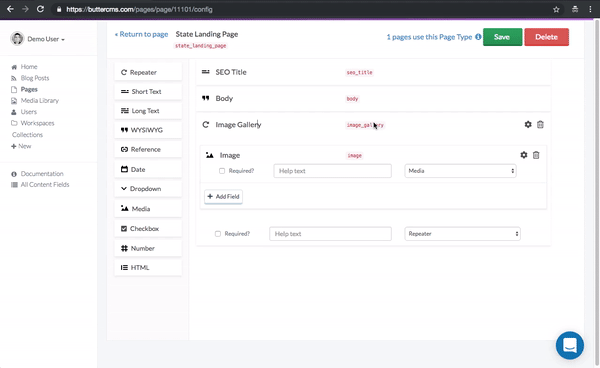 Previously these were hard coded slug versions of whatever the display label is. But now you can go in and customize these values. For example, let's say you want to shorten image_gallery to be just images so that the data (and your code) is more concise but you want to make the field label "Image Gallery" so it's more descriptive for your content editors.
Another use case for this is, if you're working with multiple languages, if your primary language is Portuguese or French or German and you want your field labels to be in those languages but you want the API keys for those fields to be in English, that's now possible to do.
Really powerful feature, makes it easier for you to model out the pages and customize it to be exactly the way you want.
We've also added the capability to drop down fields - a bit more complex in terms of several choices. Previously these choices were hard coded. Each choice has a display value and a slug - previously both of these were tightly coupled together, now you can add something like Pacific Time but then if you wanted a slug for this to be PST, you can do something like this.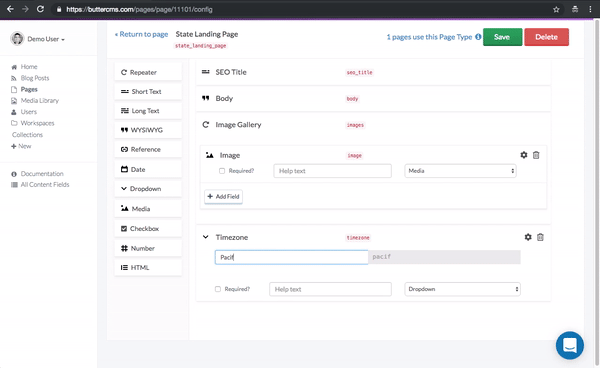 Just allowing you to have even further customization over your content and how its configured so that its exactly the way your team - both marketing and developers want it.
That's a big improvement to our page-builder interface and capability there. The other feature I wanted to show you is the ability to clone pages and blog posts. Let's say we're using Butter to power SEO landing pages and create a page for each State. So we have our first SEO page here with SEO title and body for California and everything looks good. And now we have to quickly create this for all 50 states. To do this, go to the top right corner and click on clone as new page and replace some of the values for Illinois and update the images.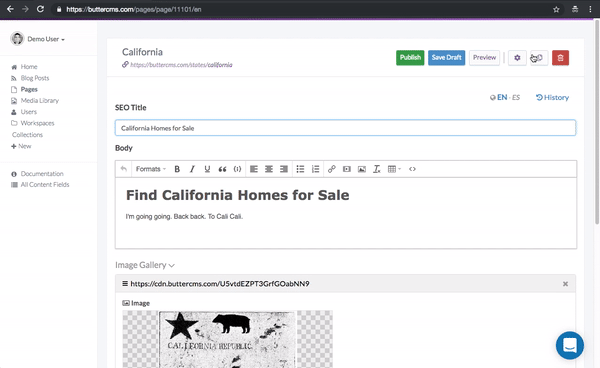 And there we go! Now we've very quickly cloned our California page, replaced it with the proper SEO values for the Illinois page and now we have the Illinois page up and running. It makes it really easy to quickly spin up 50 pages using our clone page capability.
And finally same thing with blog posts. Let's say you have a daily blog post you put out there and they have similar formats. Now you can simply click on clone post and tweak these values and you're up and running!
Some really nice capability - this should make your job even easier to create a bunch of great content for your sites as well as on the developer side configuring pages exactly the way you want them to be.
Looking forward to hearing your thoughts on this. We'd love to hear any feedback you have. Cheers!
We're the #1 Rated Headless CMS
Related articles
Don't miss a single post
Get our latest articles, stay updated!