Create Your Own Podcast With Butter: Announcing Support for Audio
Posted by Jake Lumetta on February 6, 2019
Note: Since the release of these features, we've created a knowledge base article that provides the most up-to-date documentation on how to use this feature. Please click here to learn more: Media Library
In January we released support for audio in the media library. It's a really fun feature and a lot of you have asked for it so we're really excited to show it off. The best way to do that is to give you a real example of how you can use this.
Let's say you wanted to add a whole new podcast section to your website - you want to create a bunch of great content for your audience and deliver it through a podcast format.
Here's how you can add another podcast section to your website
Go into Butter and Create A New Page Type. In this case, each of our podcasts are going to have a name, a date for when it was published, a hero image and of course the actual audio itself. Let's save that and now we've got our first Podcast page here! Let's give it a name - Our Very First Podcast.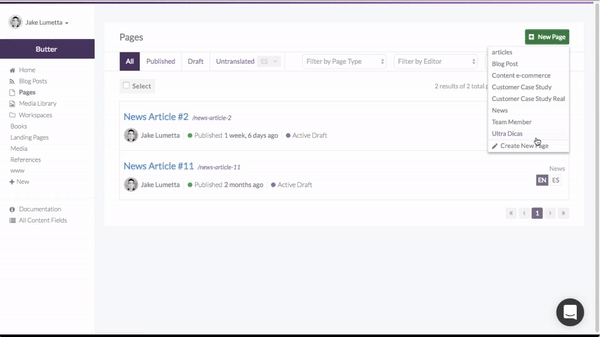 This podcast will be about how to add a podcast to your website so that's what we'll name it. We'll set the date for it to be published, add a quick hero image and add the audio. We've enhanced our media library to very easily allow you to filter for any audio files you've uploaded. Now that you've got the audio file, you can easily preview it and then hit publish. And we've created our first podcast!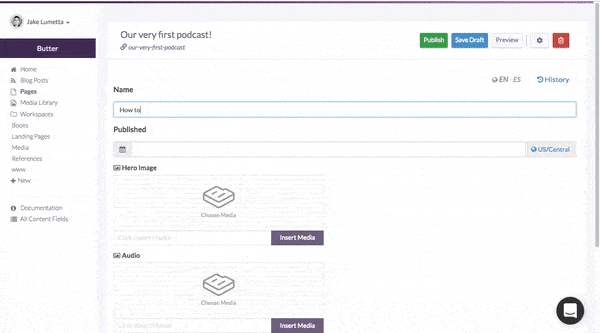 Just for completeness, let's actually turn this into a Page Type so we can create a bunch of these podcasts. So now when we go to our Pages dashboard, we have our very first podcast and if we wanted to add another one, we can just click on New Page and choose podcast.
Now we're up and running with our very first podcast and it features our brand new audio file support.
Just like any media in Butter we serve it from our CDN which is powered by CloudFront and its very fast for your listeners and readers to consume this audio as well. We're really excited about this feature and can't wait to see what you do with this latest addition.
You can now reorder repeater fields
The second thing we released is also a very popular request which is the ability to re-order repeater fields. Just to continue with this example - let's say that our podcast started to take off and we have some sponsorship interests. So if we want to add some sponsor logos to each episode, here's how we do that.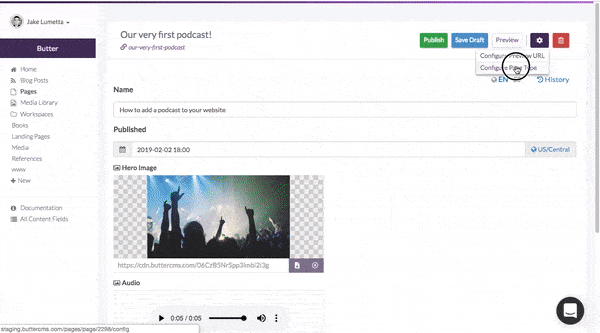 We go back into our podcast page type and add a repeater field. A repeater field is a pretty powerful feature, it basically allows you to create a group of fields you can repeat many times. We'll add a sponsor repeater field - and keep it simple with a logo and link to the website for each. Now when we go back to the page we see a sponsor repeater at the bottom - and we can click on it and add sponsors. In our example we've added a few ButterCMS sponsors. Let's say the black ButterCMS sponsor pays us a lot more and they want their logo to be featured first. Now its easy to re-order repeater fields, it's as simple as clicking and dragging, as you can see above.
So overall a lot of nice features added - audio fields, the ability to reorder repeater fields and a lot of improvements behind the scenes as well. We can't wait to see how you use these new features!
ButterCMS is the #1 rated Headless CMS
Related articles
Don't miss a single post
Get our latest articles, stay updated!