December 2018 Product Update: Media Tagging and Rich Media Fields
Posted by Jake Lumetta on January 7, 2019
Happy New Year!
2018 was a great year for Butter and we really want to thank you for being a part of our journey, it means a lot. It's been really exciting to see how much our community has grown. This is the final product update for 2018 and we ended it in a big way with some great improvements to managing media in Butter. Media is a core part of the Butter experience whenever you're managing content for your marketing sites or landing pages. We got a lot of feedback over the past year on how to improve that experience and so we ended 2018 in a really big way with some nice features for improving that media experience.
Add Tags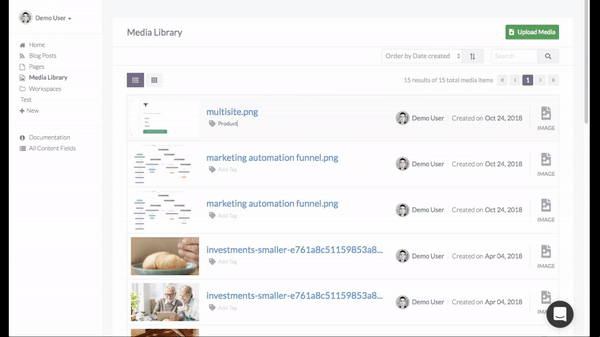 For the first feature, it's the ability to add tags to your media. When you go to the media library, you'll notice an add tag control which works exactly like you'd expect it to. It's super simple to use - you just click on it and start typing and add tags to your media this way.
And now once you have tags applied, you can just click on a tag to filter images by that tag. Really simple and really streamlined easy to use tagging that is really powerful in its capability. You can add as many tags as you want to each of the media and this allows you to organize a mass amount of media anyway that you'd like.
Media fields
We've completely revamped the media fields themselves. Previously whenever you were working with an image, we would show the text input box and the insert media button but now we're actually showing you a live preview of the media that's uploaded. So if you're looking at a blog post or a page and select an image, it uploads the preview instantly which is very convenient. A much nicer experience so you can actually see a live preview of the media that is uploaded when you publish this page.
One last feature that users have asked us about it the ability to reset your API token. If for whatever reason you want to reset your API token, maybe you accidentally committed it to Github or can't get a hold of it, now you have the ability to go right to your settings and reset your API token. Obviously a huge disclaimer here, only do this if you're absolutely certain you want to change your API token as you will need to make sure that your token is updated on your website.
Some really exciting updated for 2018. Thanks again for all the support and feedback. We look forward to a great 2019 with lots more to come. Cheers!
We're the #1 Rated Headless CMS
Related articles
Don't miss a single post
Get our latest articles, stay updated!