RegEx Validation, Preview Posts, and New Knowledge Base!
Posted by Jake Lumetta on December 10, 2019
New RegEx Validation Field Validations

We are very excited about our recent updates within the last month! In October, we added the ability to set the minimum/maximum length for a short text field in a long text field and we now have the ability to use specific patterns (technically regular expressions) in conjunction with those fields. This means you can set the format for how you want specific short text to be formulated. So for example, if an email address is needed in the short field, you can specify that pattern to be the pattern of an email address. This means that if a user were to forget the '@' sign in an email address, the short field would show an error. This would also be the same case for a zip code or phone number. Users are forced to put in the correct text answer of the needed information.
While we have default patterns to choose from (E-mail, URL, US Phone number, US Zip Code), you can also select, 'Custom' and designate your own pattern. This is a very powerful feature as you can customize and require the answers to be the exact data that you need.

Preview Blog Posts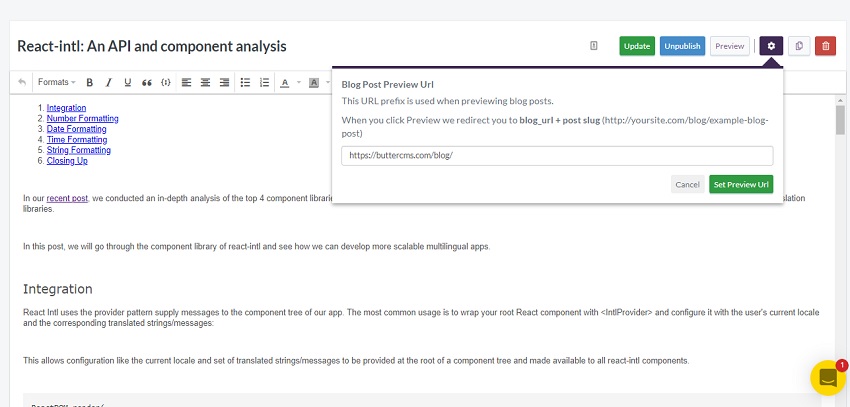 When you are editing a blog post, you now have the ability to preview the draft post before it goes live. In the top right corner of the blog post editor, you can select the gear icon (beside preview) and configure the blog post preview URL in a very easy dialogue. This will enable your content editors to view draft blog posts, after pressing the preview button and make changes before the post goes live.
New Knowledge Base


We have been very hard at work with our brand new knowledge base. On the main menu, under learn, you can navigate to the knowledge base which is a great resource for How to's, FAQ's, different uses cases and examples on Write API. The goal here is to make it easier to get the most value out of Butter by exploring all the different features, capabilities and discovering new Butter use cases. This knowledge base will highlight ideas as far as what else you can do with with Butter to get even more value beyond blogging.
Let us know your thoughts in the comments below. We have much more in store for December so stay tuned!
We're the #1 Rated Headless CMS
Related articles
Don't miss a single post
Get our latest articles, stay updated!