Schedule Pages, Export Blog Posts and a New Butter Look!
Posted by Jake Lumetta on October 2, 2019
There's been lots of exciting things we've been working on that I've been waiting to share with you!
Within the last month we've recently announced the capability to schedule pages. You can also export all of your blog posts to a CSV file or excel file. And we also launched a brand new marketing site that we've been hard at work on for a while. So let's run through these three exciting updates.
Scheduling Pages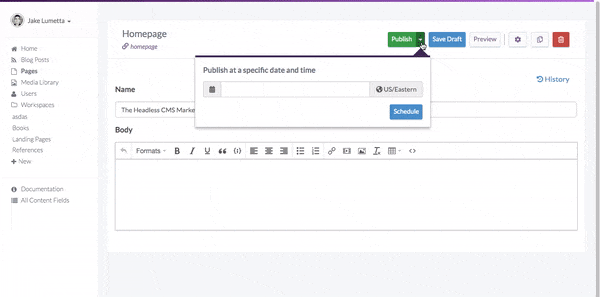 So the first one is scheduling pages. This one is fantastic. Before you could always publish pages but now you'll notice if you click on this little arrow you have the ability to actually pick a specific date and time that you want your Page content to go live. So, for example, say you have a home page that want to schedule to go live. You can go in here and pick noon on October 3rd - pretty straightforward. This new version of your home page will then go live at this date and time, you simply click schedule and you're off and running.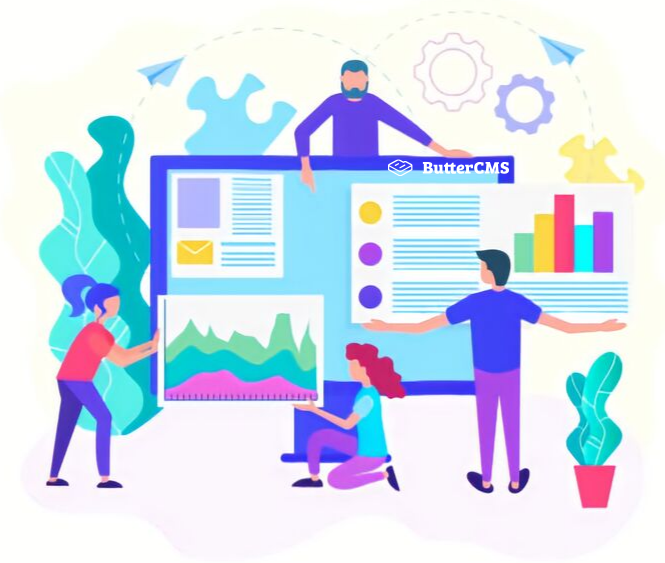 This gives your content editors even more control and flexibility to coordinate releases of content for perhaps a new promotion that you're running where you want to update your home page with an exciting new announcement. And you can also schedule a blog post as well to go along with that announcement. So you can have both a promotion show up on your home page as well as a longer form blog post that announces that new information as well. So it's a really dynamic feature that we're excited to get into your hands and we'd love to hear your thoughts and feedback on that.
Export Blog Posts
This leads me to the second thing we launched. We now have an export post capability. You simply click on this button here and it will download all of your blog post data into a simple excel file.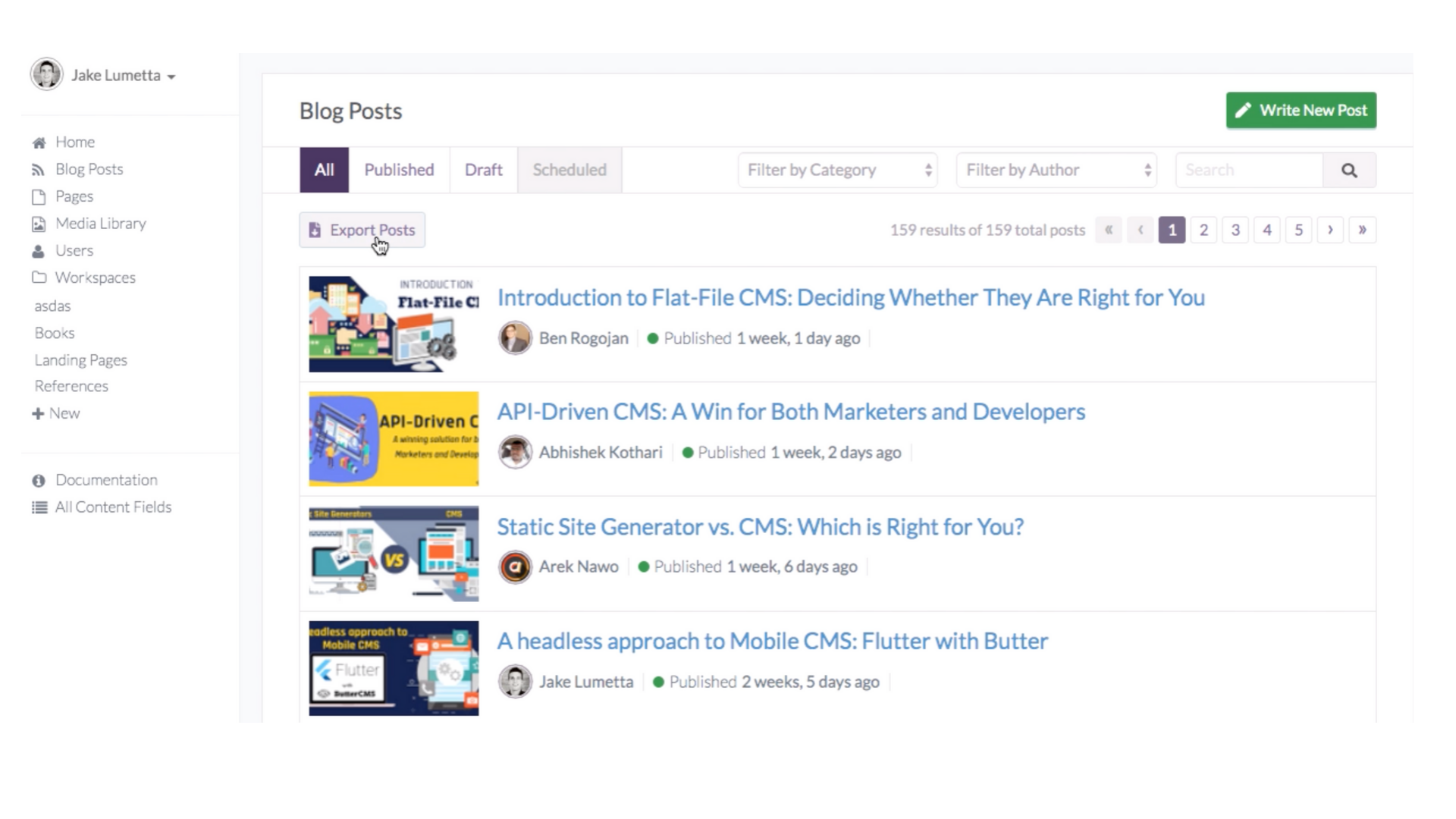 And this is awesome because now this will allow you to do even more advanced analysis on your blog post content. The number one thing you guys tell us about is you want to be able to do SEO analysis. Now you can download all your blog posts and do SEO analysis yourselves or send it to your SEO agency to look at all your blog post slugs, make sure you're doing the right keyword targeting and any other SEO tactics. Now this export post feature allows you to do that. So we're really excited about that as well.
Finally we've been really hard at work at this and excited to show off our new ButterCMS branding.
Basically it reflects where Butter is at in terms where we're at as a company, our product growth and our focus on solving CMS for you, our fantastic customers.
And generally with the new site what we tried to do is just make it do a much better job of showing off all the capability of Butter as well as highlight different use cases across different verticals that explain how leading companies are using Butter to power their modern content experiences.
We're thrilled to get this out there. A huge thank you to you, our customers and our community for supporting Butter. We're always looking to grow our Butter community so help us out and spread the word about us to your friends and family.
That's it! We can't wait for you to try out these new features and as always, we'd love to hear your thoughts and feedback. Cheers!
We're the #1 Rated Headless CMS
Related articles
Don't miss a single post
Get our latest articles, stay updated!