Share Your Brilliant Code With Code Snippets
Posted by Jake Lumetta on March 1, 2016
Today we're releasing a nice enhancement to our editor that allows you to easily share code snippets with your readers. Actually, it's two features that appears as new buttons in our editor toolbar. The first button is for highlighting code (function names, variables, etc) inline of a sentence. The second button is for highlighting entire code blocks.
Here's a demo of this feature in action: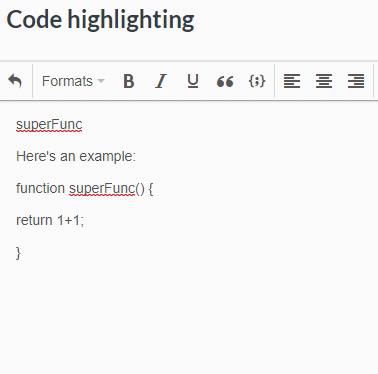 To ensure these code snippets appear correctly on your blog, simply add this CSS file to your blog template:
<link rel="stylesheet" href="http://d2z2rr99bkshyr.cloudfront.net/buttercms-post-defaults.css">
This file contains a default set of styling for Butter-specific tags and elements. As we continue to roll out new features, we'll automatically update this CSS file to ensure you can instantly take advantage.
Thanks for all of your input on this feature! Please let us know your thoughts below.
Make sure you receive the freshest Butter product updates.
We're the #1 Rated Headless CMS
Related articles
Don't miss a single post
Get our latest articles, stay updated!