Use Tags and Categories to Organize Your Blog Posts
Posted by Jake Lumetta on November 7, 2016
As you produce more and more content, using categories and tags effectively is important to help keep your content organized. Doing this will enable your readers to browse around and discover other related content that they may find interesting.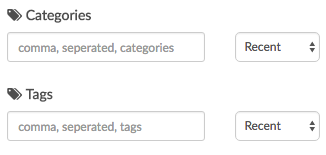 We've had "Categories" from the beginning and are excited to announce we've added "Tags" as well. The two features are similar but give you maximum flexibility on how you'd like to group your blog posts.
For example, if you write content during various holidays (Chrismas, Halloweeen, etc) then you could group those under the "Holidays" category. However, if you write multiple Christmas posts and multiple Halloween posts, you can now use tags as another level of grouping. So in this case you'd add a "Christmas" and "Halloweeen" to the corresponding posts such that you'd end up with something like this:
Post 1
Category: Holidays, ...
Tag: Christmas, ...
Post 2
Category: Holidays, ...
Tag: Halloween, ...

Clicking the category "Holidays" gives you all posts with that category and "Christmas" gives you all posts with that tag. Further, you can combine categories and tags to filter posts that match both.
You can check out our documentation for full details on using Categories and Tags..
Make sure you receive the freshest Butter product updates.
We're the #1 Rated Headless CMS
Related articles
Don't miss a single post
Get our latest articles, stay updated!