You can now access your Bynder digital asset library directly from your ButterCMS dashboard!!
Bynder is a provider of a digital asset management (DAM) platform designed to offer a smart way to find and share creative files. It offers creative automation, rebranding and brand pivots, digital experience, organizational scale, geographic expansion, and more.

With the Bynder and ButterCMS integration, you can now access your Bynder digital asset library directly from ButterCMS. This integration will save your editors time by providing them with a Bynder widget to browse, select, and upload media without leaving ButterCMS.
To enable your integration, you can access the integration settings here: https://buttercms.com/settings/integrations/
Or by going to Settings > Integrations:

Bynder Media Editor Widget
Bynder's Digital Asset Management is especially useful for enabling your own content providers that may need to make simple edits on images manually. The editor helps to scale internal operations by reducing dependency on designers for simple recurring tasks and allowing content providers to quickly review and tweak assets when needed.
- Resize and crop
- Text overlays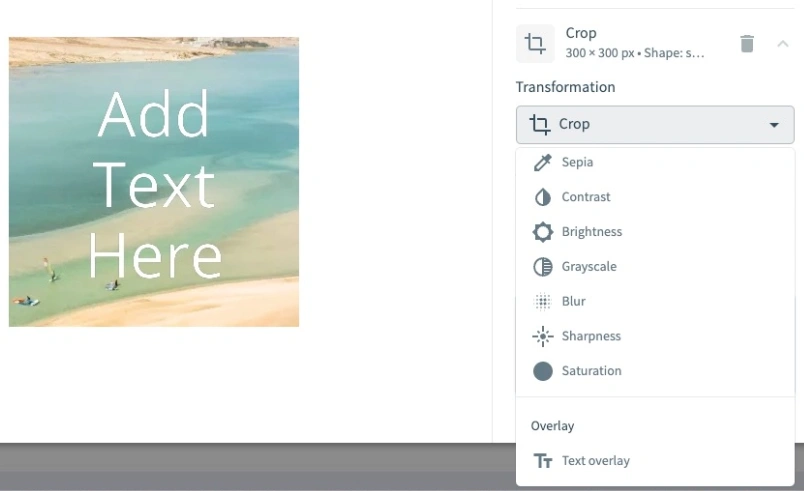 - Export
Ensure content consistency across all digital touchpoints. Download assets in channel-specific, prefixed formats with the option to crop and edit, so you can get content out quickly and consistently.

- Events
- Analytics
Track and trace asset data on external platforms and enable data-driven decision-making to optimize asset performance.

- Localization
The important thing to note is that the Bynder widget doesn't offer uploading. You have to do it on their website before the image will be visible in the widget.