As you go through this selection of alternatives, remember to keep the following buying criteria top of mind:
Ease of core features– intuitive user interface designed to work with most programming frameworks. Technical support, if required, is readily available.
Speed of core features– out-of-the-box, executed quickly with minimal maintenance requirements.
Pricing– the variety of plans and budget feasibility.
Customizability– the ability to customize offered solutions according to the business or technical needs of the customer.
Non-core features– the availability of secondary features that enhance the usability and functionalities of the core CMS.
#1. ButterCMS
ButterCMS is a headless CMS that leverages APIs for composable, multi-channel content. It offers a clean and easy-to-use dashboard that brings all the content management features in one place.
It's developer-friendly and offers compatibility with multiple coding languages and frameworks, including JavaScript, Java, Python, Rails, Ruby, and many more. With flexible pricing models, ButterCMS suits enterprises of all sizes and niches.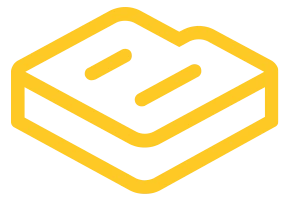 Core Features
Blog Engine: ButterCMS offers a built-in blog engine that makes it easy to add a blog, or migrate an existing one, to your website.
Team Workflows: With Team Workflows, content teams can collaborate seamlessly to create and manage content. For instance, the Team Presence feature lets you know who is accessing the content at the same time as you.
Localization: ButterCMS supports content localization through custom locales that teams can create to cater to audiences in different regions.
Robust Content Authoring: Marketers can design pages and turn out content fast with simple drag-and-drop functionality without coding or support from developers.
Image Editor: The ButterCMS media library features a built-in image editor that allows modifications like resizing, adding text, or applying filters.
Custom Roles and Permissions: ButterCMS' enterprise plan allows customers to create custom roles and add relevant permissions for even more granular access control.
Strengths
Straightforward Interface: The modern, intuitive, and centralized dashboard of ButterCMS makes content modeling and publishing quick and easy. All content types are easily accessible on the same dashboard, along with the media library.
Out-of-the-box Blog Engine: ButterCMS considers blogs integral to content strategy and offers a ready-to-use solution.
Speed to Launch: With starter kits, detailed tutorials, and developer-friendly tools, ButterCMS makes it easy to launch any project.
Supports the Largest Variety of Frameworks and Languages: Of all the headless CMS products on the market, ButterCMS supports the most programming frameworks and languages. In other words, you can use the coding language that fits your existing tech stack.
Seamless Internationalization and Localization: The API-first approach of ButterCMS is further enhanced by content localization, allowing enterprises to customize and control the content offered to different audiences effortlessly.
Weaknesses
No Built-In Analytics Tools: ButterCMS doesn't offer any built-in analytics to help you gauge the performance of your content. However, you can integrate third-party tools to analyze content data and improve customer experience.
Simple Internal Content Search: The internal content search is basic and does not offer many advanced filtering options.
Young Marketplace and Ecosystem: Compared with Contentful, ButterCMS' marketplace for apps is still growing, which may result in fewer choices for a particular functionality you're looking to add.
Popular Integrations

Pricing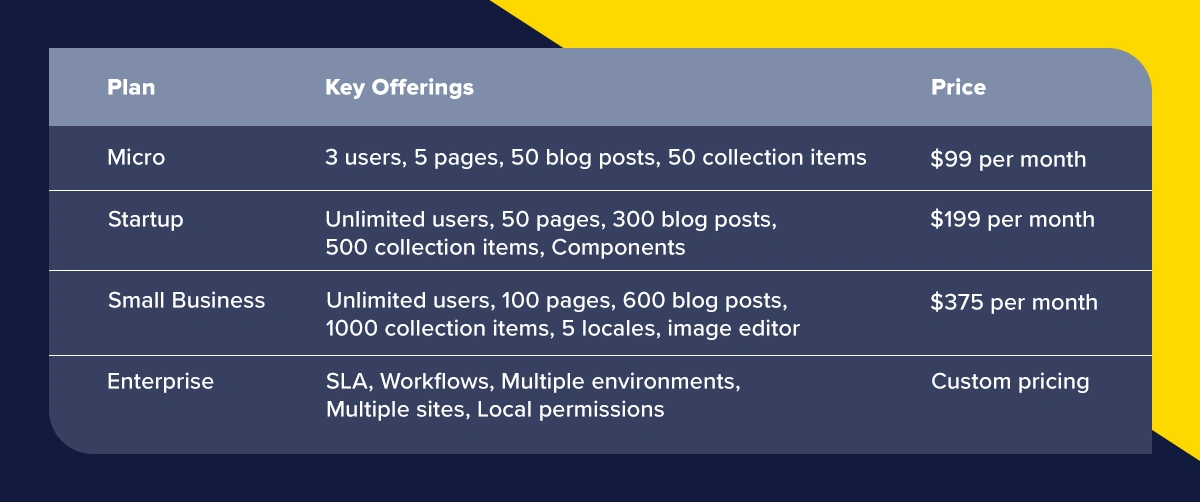 #2. XOOPS CMS
XOOPS is an open-source, object-oriented web CMS that stores content on a MySQL database. Users can utilize templates to create dynamic frontends that are decoupled from the storage layer.
It's a fully modularized CMS, which makes the codebase easy to maintain. Modules can be used to shape the presentation layer, manage publishing, configure sitemaps, enforce security policies, and much more.
The CMS is written in PHP and is open to modifications as per the needs of the business. It was initially used for creating portals, but its use cases have since increased.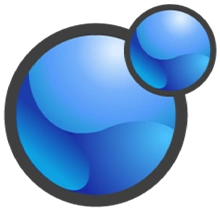 Core Features
Database-Driven: XOOPS CMS is powered by MySQL, a relational database known for its powerful querying abilities and efficient storage. This enables developers to build flexible and dynamic web applications.
Theme-based Skinnable Interface: The front end of the website can be created and modified with the help of over 800 pre-built themes.
Group Permissions System: Administrators can set and manage access permissions by groups, for example, authors, editors, publishers, etc.
Fully Modularized: Thousands of modules can be installed and activated with a click.
Multi-byte Language Support: XOOPS supports multi-byte languages (languages with unique characters, such as Asian languages).
Strengths
Easy Installation: XOOPS CMS can be installed quickly and easily by downloading and installing the zip package from the website.
Free Open-Sourced: XOOPS is free to use and extend.
Large Repository of Installable Modules: It boasts a collection of hundreds of installable modules that can be used to create a variety of websites, like community websites, corporate portals, and blogs.
Weaknesses
No Granular Permissions: XOOPS only offers permissions management for user groups without the option for finer granularity.
Lacking Updates: As it's maintained by a group of volunteers, bug fixes and performance improvements can take significant time to roll out.
Small Community: Compared to Contentful, the XOOPS developer community is relatively smaller, resulting in a much smaller ecosystem of apps and integrations.
Reliance on Modules for Functionality: XOOPS is entirely based on core and non-core/third-party modules. Although quick to install, adding and managing modules for even the simplest of functions can become laborious.
Popular Integrations (via Modules)

Pricing
XOOPS CMS is free to use. It's suitable for small to medium enterprises but may not be the most convenient option for large enterprises with multiple websites, hundreds of users, and vast volumes of content to manage.
#3. Apostrophe CMS
Apostrophe CMS is an open-source, full-stack CMS that can be used to build both traditional websites and headless applications. Apostrophe CMS is written in JavaScript and is much more web-friendly than other similar open-source CMSs.
With extensions and integrations created by the Apostrophe community developers, adding various functions to your web application is easy. Users can host the CMS on their server or subscribe to a paid plan that includes additional features and hosting.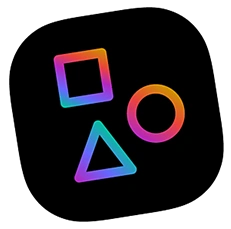 Core Features
Multisite: Apostrophe Assembly offers a central dashboard for deploying and managing multiple websites.
SEO: You can add meta fields for all web pages and use the SEO page scan feature to check if a page implements good SEO practices.
Workflow: The workflow module allows users to manage drafts, set up approval and editing workflows, and create multi-locale documents.
Permissions: Apostrophe CMS offers permissions management through fixed user roles.
Design Editor: The design editor allows users to edit and adjust the visual design of pages within the same management interface. A sidebar contains all the options to edit the look of the page.
Open-Source: Apostrophe CMS is open for modifications, allowing developers to build tailored web applications.
Modularity: Modules make it easier to maintain the source code and add or remove features.
Strengths
Large Selection of Extensions and Integrations: Apostrophe CMS provides access to an extensive repository of extensions and third-party integrations thanks to a large community of developers.
A Complete Website Builder: Apostrophe Assembly is a reliable website builder that makes it easy and fast to turn out websites. With drag-and-drop editing and flexible content APIs, users can generate websites with minimal to no coding.
Public Project Roadmap: As an open-source CMS, Apostrophe has a strong community of stakeholders actively involved in developing the project. The project roadmap is public and outlines the features and products currently in progress or planned.
Weaknesses
A Limited Selection of Client SDKs: The lack of client SDKs makes it harder for developers to get started with Apostrophe.
Widget Inconsistencies: While adding widgets is simple, managing a growing number of widgets can lead to complexities in editing. Moreover, maintaining a coherent look and feel for all widgets once they've gone live can also be challenging.
Popular Integrations

Pricing

Enterprise pricing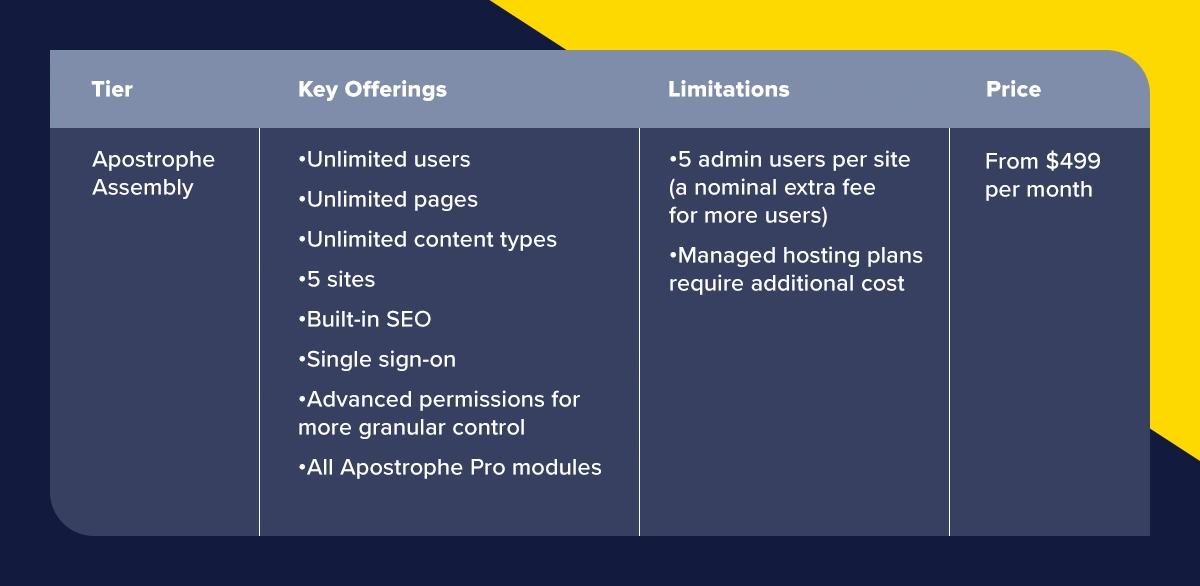 #4. HubSpot CMS
HubSpot CMS is a website building and content management solution designed with a focus on marketing. It's a traditional CMS with simplified website-building tools that offer drag-and-drop features for creating dynamic websites.
HubSpot CMS works seamlessly with other HubSpot offerings, such as its customer relationship management (CRM) software and many other third-party tools.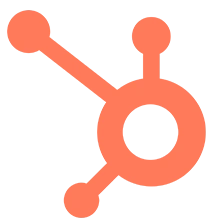 Core Features
Drag and Drop Website Builder: HubSpot CMS offers an intuitive drag-and-drop website builder that requires no coding. Marketers can use it to create pages quickly.
Website Themes and Templates: The CMS offers a wide range of themes and templates for different website types, which are further customizable to suit the site's brand identity.
Fully Integrated CRM: The HubSpot CRM allows user experience customization and empowers marketers with insightful data.
Web Hosting: With web hosting provided, HubSpot CMS eliminates the need to host the website on another platform, offering an all-in-one solution.
Blog Maker: The free blog maker lets businesses add a blog to their website using drag-and-drop features without coding.
Custom Domain Connection: Users can connect a custom domain with their website that aligns with their brand identity.
Strengths
Easy-to-Use for HubSpot Suite Users: If you're already using the HubSpot Suite or one of its products, you'll find HubSpot CMS easy to use and integrate with other HubSpot tools.
Marketer Focused: HubSpot CMS is inherently marketer-friendly, with features designed to make branding across different content types effortless. It doesn't require developer intervention to create, edit, and manage content.
Low Barrier of Entry: HubSpot CMS is user-friendly and suitable even for people without coding skills. The knowledge base and tutorials make creating websites and adding content easy.
Built-in Analytics: HubSpot CMS offers analytics on different website aspects via traffic analytics tools. In contrast, many CMS solutions, including Contentful, don't have built-in analytics.
Weaknesses
Lacks Flexibility: HubSpot CMS doesn't offer the same flexibility as other CMSs on the market. For example, the marketplace doesn't include many plugins, mainly themes and templates, making extending your CMS hard.
Platform Insularity: HubSpot CMS Hub is primarily designed for seamless integration within the HubSpot ecosystem. This makes it an attractive option for users already invested in HubSpot products. However, this focus may lead users to overlook other purpose-built CMS solutions that may be better suited to their unique needs.
Not Developer-Friendly: Unlike headless CMSs, HubSpot CMS is not developer-focused. It lacks the breadth of the tech stack and the flexibility you'll typically find with CMSs like Contentful or ButterCMS.
Complex Pricing: The pricing structure is quite complicated, as there are multiple plans for two distinct categories of users.
Not Easy to Navigate: With so many marketing tools and features, navigating the interface can be challenging.
Uses its own Templating Language HubL: It's built on a proprietary HubL (HubSpot Markup Language). It's unique to HubSpot, and developers must learn its syntax.
Popular Integrations

Pricing

Enterprise pricing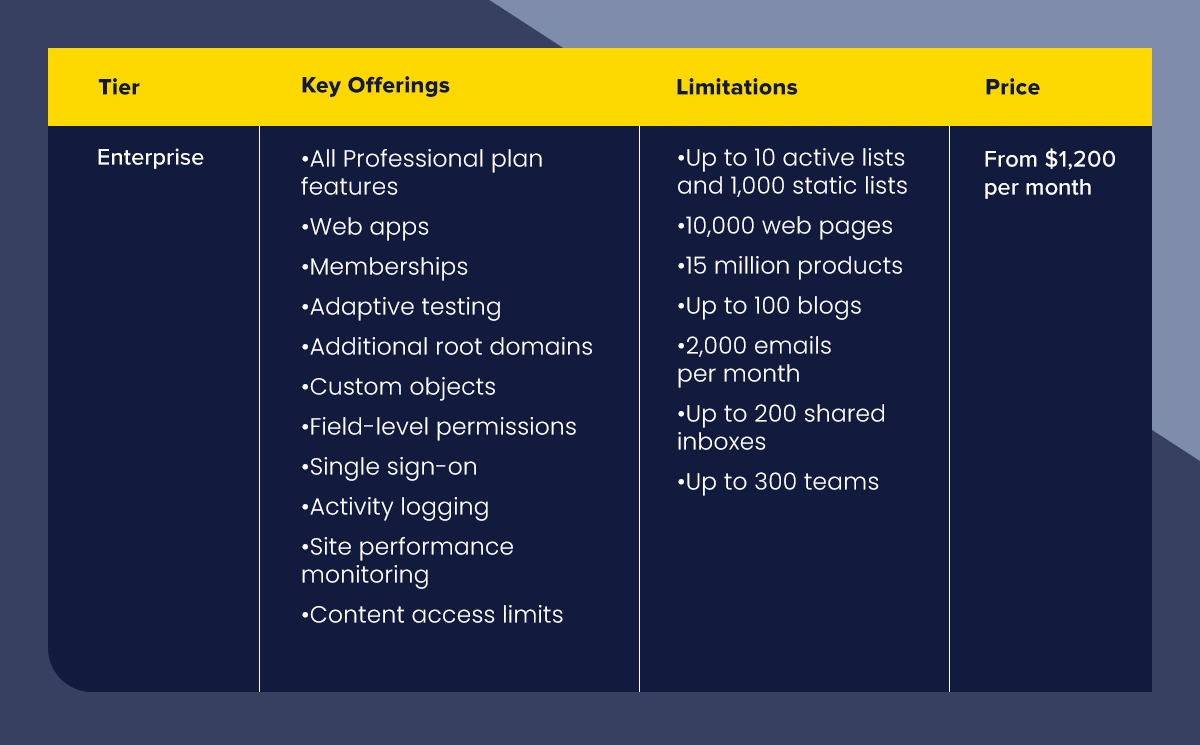 #5. Joomla
Joomla is a widely used open-source, traditional CMS, based on the model-view-controller (MVC) framework. It powers many websites, like branding websites, e-commerce stores, and blogs. It's written in PHP and can work with different SQL databases.
The built-in user management system provides easy access control for teams. The basic CMS tool can be expanded with Joomla extensions, enabling users to add different functionalities to their web projects.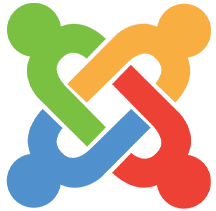 Core Features
Multilingualism: Joomla offers out-of-the-box support for multilingual content (supports over 70 languages), catering to the needs of businesses with a global presence.
One-click Updates: The updates are automatically available in the Control Panel and can be installed with just one click.
Front-End Editing: Users can enable front-end editing, also known as inline editing, for modules. This makes it easier to modify the design layer.
Banner Management: Joomla, by default, includes the banner component for websites, which can be used to implement different features, like rotating advertisements.
Web Link Management: The Web Links Manager Joomla extension makes it easier to add, edit, and remove links to other websites.
User Management: Administrators can use the User Management portal to add, change, or restrict uses. With an Access Control List, admins can govern what users can view and do.
Menu Management: The Menu Management feature provides an easy interface to instantly add, modify, or remove a menu from a website.
Cache Management: The Joomla Cache allows admins to cache web pages, which can improve the performance of your website. There are different types of caching options: progressive, conservative, and page caching.
Strengths
Pricing: Joomla is an open-source, free CMS that anyone can install and use. You'll only be responsible for paying for hosting and domain.
Advanced User Management: Joomla enables administrators to define granular authorization policies (who can do what on the site), using the robust, built-in Access Control List (ACL) system.
Out-of-the-Box Multilingual Support: Joomla users don't need to install third-party extensions to make their website multilingual.
Module & Plugin Extensibility: Joomla is extensible through extensions, which can be used to add new features and functionality to your website.
Weaknesses
No Dedicated Support Team: Joomla doesn't have a dedicated customer support team. You'll need to explore documentation or visit Joomla forums to troubleshoot issues.
Difficult Upgrades: While updates can be installed with a click, they can sometimes lead to inconsistencies in the theme or mess with the website's functionality.
Lack of Quality Extensions: While Joomla has a large selection of extensions, many are outdated or not as well-maintained as the extensions of other CMSs like WordPress or Contentful. This can lead to security vulnerabilities and compatibility issues.
Shrinking Community: The Joomla community of developers is shrinking due to the increasing popularity of modern technologies, frameworks, and architectures such as headless CMSs, jamstack, etc.
Too Developer-Focused: Joomla is a developer-oriented CMS, so users without experience with PHP and JavaScript may need help configuring and customizing their websites.
Not SEO Friendly Out-of-the-box: Joomla lacks built-in SEO features. These features must be added via extensions.
Popular Integrations

Pricing
Joomla is free for all users. It's ideal for small and medium business websites.
#6. Webflow
Webflow is a traditional CMS that makes it easier for non-developers to create a website. It allows users to build a website using the power of raw HTML, CSS, and JavaScript, all within an intuitive visual interface.
It offers built-in SEO features, including SEO automation, fully managed hosting, and the ability to publish data to mobile apps. It also provides a robust API to export data, integrate with an existing CMS, or programmatically update content.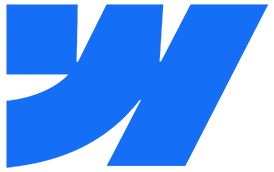 Core Features
Dynamic Content Filtering and Sorting: Webflow uses JavaScript libraries to let users sort and filter content by category, date, tags, and other criteria.
Dynamic Content Templates: Webflow's dynamic content templates enable editors to reuse a template for every item in a collection.
Fully Customizable Content Structures: Webflow enables users to design customized content structures using dozens of field types.
RSS Feeds for CMS Collections: Users can create RSS feeds for collections, enabling people to subscribe through email or reader applications.
Clean, Compliant, Exportable Code: Webflow creates clean and standard-compliant code without inline containers for each webpage, which can easily be exported and reused.
Free Cloneable Websites from the Webflow Community: Designers in the Webflow community have created many cloneable websites, available for free. This allows users to create their own websites by cloning these existing websites.
Strengths
Large Selection of Templates: Webflow boasts over 2,000 templates for all types of websites, for example, online stores, portfolios, blogs, SaaS, events, recruitment, etc.
No Code Solution: Webflow doesn't require coding, making it a viable platform for people and businesses without any development expertise.
Visual Builder: The visual website builder lets you see how the pages will render as you create them.
Weaknesses
Not Exactly a Drag-and-Drop Builder: Webflow uses the box model, where HTML elements are expressed in boxes. It's not a drag-and-drop website builder that most people are used to and find convenient.
No Live Chat or Phone Support: Webflow customer support options are limited to email with a 24 to 48-hour response time.
Complicated Pricing: Webflow's pricing structure is not straightforward. Plans are bifurcated into different categories, including general, e-commerce, freelancer, and agencies.
Limited E-commerce Functionality: There are limitations to Webflow's e-commerce capabilities, such as caps on the number of products you can sell.
Popular Integrations

Pricing
Contentful vs. Alternatives User Ratings Chart
Here's a comparison of Contentful alternatives based on ratings from G2 users.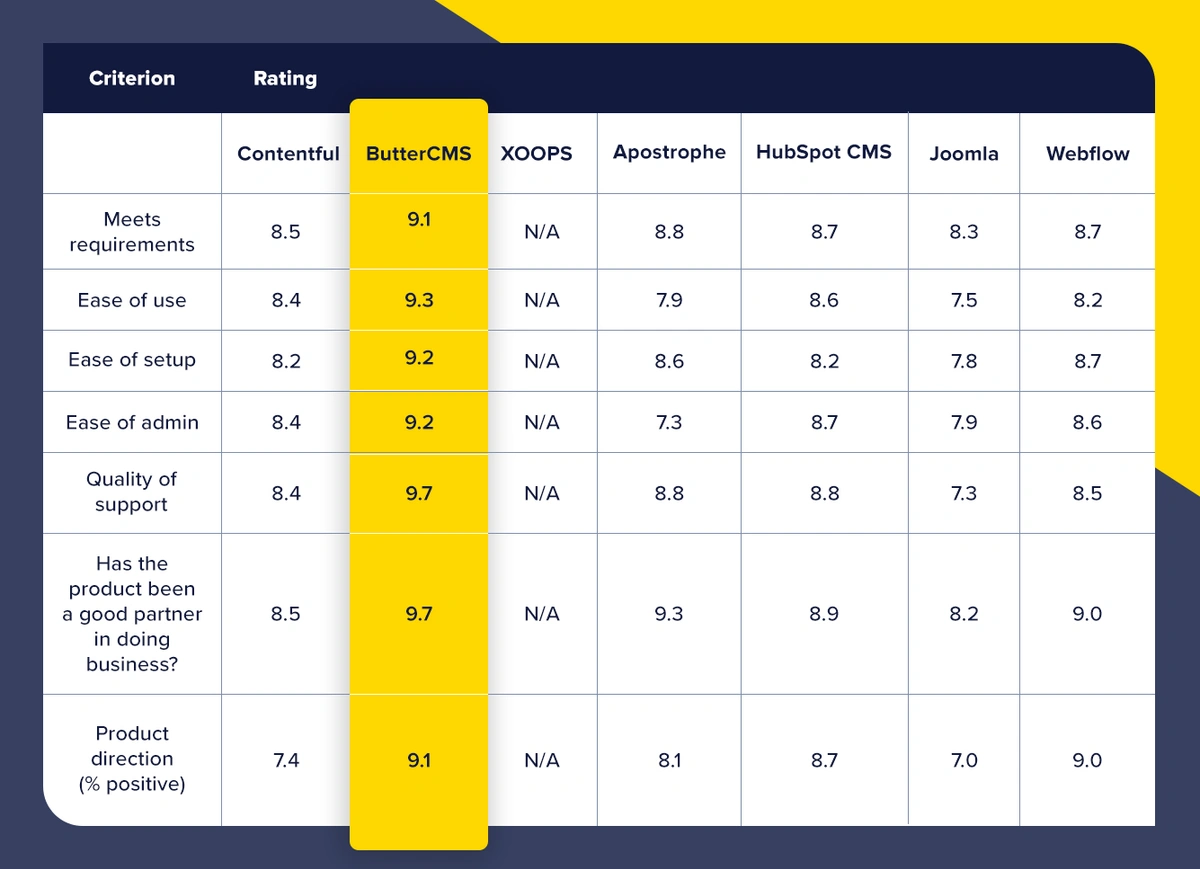 Compared to Contentful and other alternatives, ButterCMS has the highest ratings in all the categories.
What Makes ButterCMS the Top Contentful Alternative?
ButterCMS and Contentful are headless CMS solutions that simplify content creation and management by separating the back and front ends. Using APIs content can be distributed to different channels. However, Contentful lacks certain essential elements that ButterCMS readily offers.
An intuitive dashboard, robust security, an API-first approach, and easy integration with third-party tools make ButterCMS a preferred choice for many businesses.
What's the Difference Between Contentful and ButterCMS?
ButterCMS offers a more collaborative content management experience with its Team Workflows feature. It also has a built-in blog engine, unlike Contentful.
Additionally, ButterCMS is more developer-friendly than Contentful because it offers compatibility with a broader range of technologies.
In terms of pricing, ButterCMS offers flexible pricing to suit various business sizes and needs. In contrast, Contentful offers fewer plans, and enterprise subscription costs can quickly increase as your content needs scale up.
Contentful vs. ButterCMS Feature Comparison Chart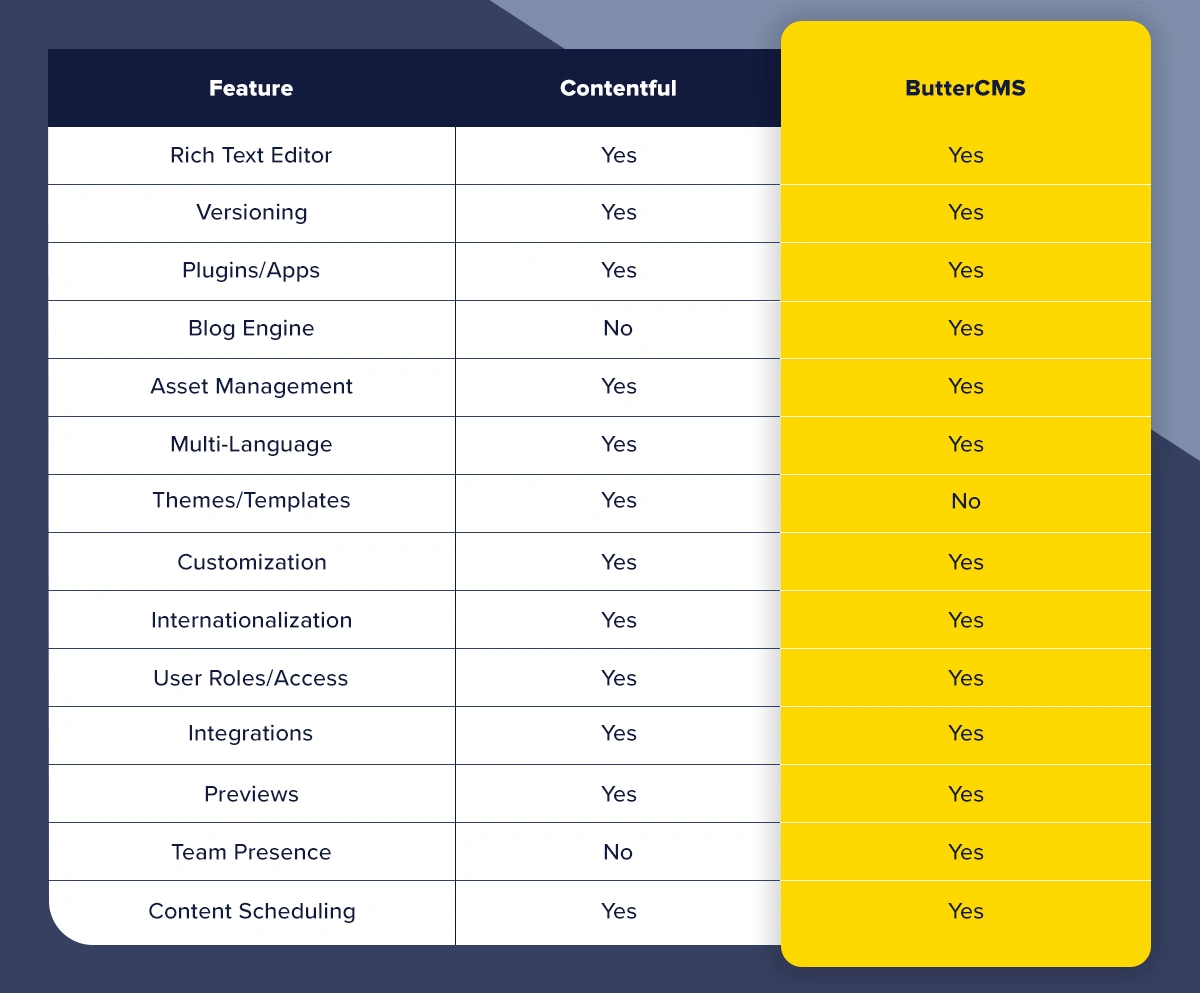 Determining Which Solution Is Best for You
ButterCMS and Contentful are viable CMS solutions in their own right. You must analyze your specific business needs to determine which one has the potential to help your enterprise reach its content goals.
When to use ButterCMS?
ButterCMS is ideal for businesses looking to build beautiful, content-driven websites fast. It's flexible pricing and critical out-of-the-box features like the image editor, blog engine, and team workflows allow you to push out content quickly.
When to use Contentful?
Contentful is a good choice for developers who prefer GraphQL over REST or want to build a suite of custom applications using the app framework. It also has a more mature ecosystem and marketplace compared to ButterCMS.
What Butter Customers Have to Say
Here are some testimonials from ButterCMS customers:
The biggest value of Butter is that it provides our clients a seamless experience. It's a point-and-click, admin-friendly content management solution for any application we've built for a client on Heroku. Justin Ludlow CTO Radial Spark
We migrated to a headless infrastructure to enable rapid A/B test iteration, which has driven a double-digit impact on our profit margin. We also love having the rigor of Git version control over our HTML, while giving our marketing team autonomy over the copy and content itself. Jake Kring CTO Skylight Frame