DeepL Translate is an artificial intelligence (AI) language translation tool that provides highly accurate and natural-sounding translations for text in various languages. It uses neural network technology to learn from vast amounts of language data and to analyze the context of each sentence to provide translations that are closer to human-like quality than many other translation tools.
Translations between the following languages are supported:
| | | | | |
| --- | --- | --- | --- | --- |
| Bulgarian | Estonian | Italian | Portuguese | Swedish |
| Chinese (simplified) | Finnish | Japanese | Portuguese (Brazilian) | Turkish |
| Czech | French | Korean | Romanian | Ukrainian |
| Danish | German | Latvian | Russian | |
| Dutch | Greek | Lithuanian | Slovak | |
| English (American) | Hungarian | Norwegian (bokmål) | Slovenian | |
| English (British) | Indonesian | Polish | Spanish | |
Enabling DeepL Integration
To enable your integration, just go to Settings > Integrations and tick the 'Enable' checkbox. No account with DeepL is necessary:

Translating Content
Once DeepL has been enabled on your ButterCMS account, you can go to a page and initiate a translation request:
When a translation request is in progress, any user who visits the page that is being translated would see a warning informing them of the process that is running in the background.
NOTE: You have the option to define which text fields will be excluded from the translation.
Translation History
You can view a log of all previous DeepL translation requests. Just click on the 'View Translations History' link in Settings > Localization. You can also click on each entry to get more information on the job:

Exclude Fields from DeepL Auto-Translation
You can specify fields that should be excluded from DeepL auto-translation. This feature allows you to maintain control over content localization while benefiting from automated translation capabilities.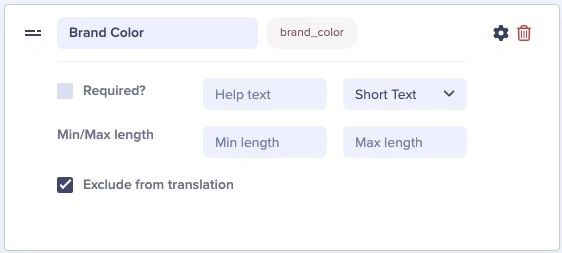 Benefits of Excluding Fields from DeepL Auto-Translation:
Precision and Control: Keep sensitive or context-specific content, such as brand names or legal disclaimers, in their original language to ensure accuracy and consistency.
Customized Localization: Hand-pick the fields that should be translated, allowing you to tailor the translation process to your content strategy.
Compliance: Meet industry-specific regulations and compliance requirements by retaining control over specific content elements during translation.
Enhanced User Experience: Ensure that your website's international visitors receive a seamless and localized experience by carefully managing what gets translated and what stays as is.