When working with others on your team to create, update, and publish new content, it's important to have the ability to go back to see previous versions of content in case something needs to be recovered. Here's how to view the previous versions for your content:
Pages
1. Go to the page you're interested in from your Butter dashboard.
2. Click on the ellipsis on the top right corner of your screen and choose History from the drop-down menu.

Note: When you click on previous versions from the right-hand side, the content fields and content within them will show up on the left-hand side.
3. View all previous versions for that page. In order for a version to show up in your history, it must have been "published." If the page has never been published, then it will not show up here. Here's an example version history from our Butter knowledge base page: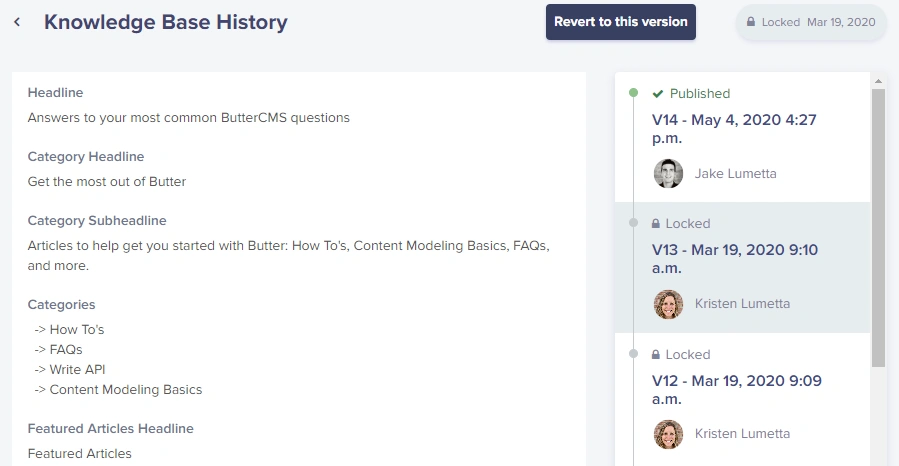 4. If you want to revert back to an older version, select the previous version that has the content fields and/or content that you are looking to restore, and then click the "Revert to this version" button.
Collections
1. Go to the Collection from your Butter dashboard and then click on the Collection Item that you'd like to view.
2. Click on the ellipsis on the top right corner of your screen and choose History from the drop-down menu.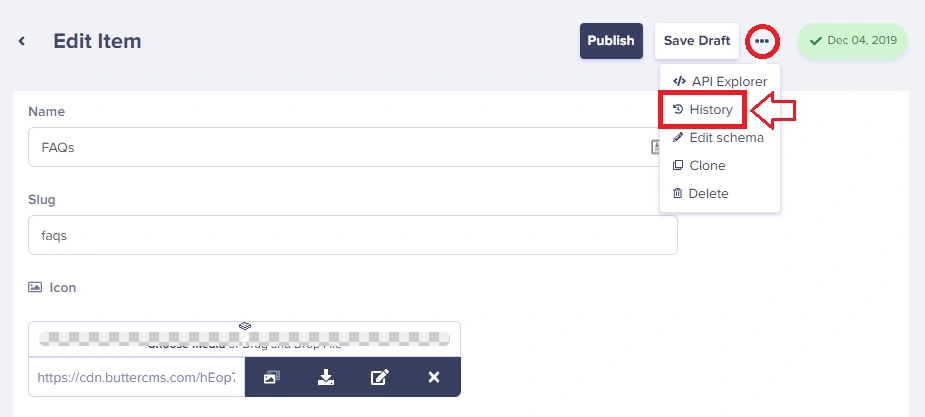 3. Once you've clicked on that, you should see a list of when your items were edited and the content version right below it.
Blog Posts
Viewing version history for Blog Posts is currently unavailable.
Symbols for Versions

This version is in Draft and will only appear for the current active draft.
This is the currently Published version.

This version was a previously Published version and can no longer be modified. It can however be reverted back to.
Note: Version history helps you to recover content and media that have changed. If changes are made to the content modeling of a page or collection, i.e. content fields have been added or deleted, only the currently published content fields that have been configured will be available for any version.
If the workflows feature is enabled on your account, you can then see all prior conversations that transpired.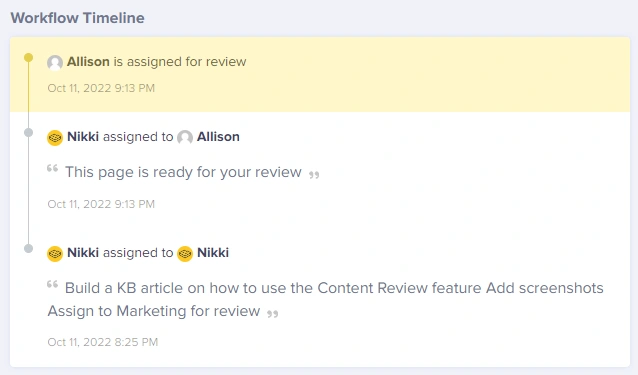 Note: Everyone in the account can see the workflow timeline and comments for a blog post, page, or collection item. It's a nice way to see what's going on in a particular piece of content.