New Page Builder is Smooth as Butter
Posted by Jake Lumetta on May 23, 2018
We've been busy churning away and today are launching our new Page Builder, complete with a streamlined page creation flow that's 2x faster. When we launched Page Types we received a lot of great feedback around how to make this process better and most importantly how to better support Single page scenarios (pages that are truly unique/one-off, like your home or about us page).
Page Types are great for creating a lot of pages with the same structure but different content. However sometimes you just need to quickly add a CMS-powered one-off page to your site. Our new Page Builder is perfect for both use cases.
Let's take a look!
Single Pages
Creating a Page is now focused on first creating a single page and leverages our new smooth, buttery page builder.
Quickly add fields and compose your page from scratch. Above is an example of creating a customer case study page. Once done, simply hit save and you'll get taken to the content editing view: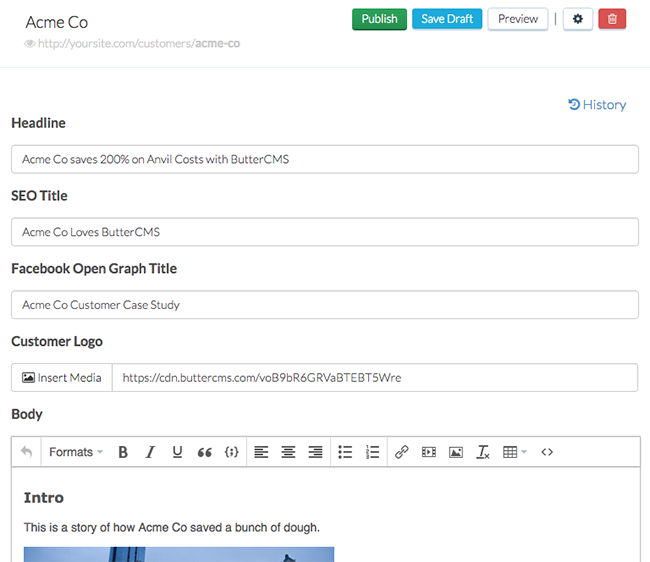 Then follow our integration guide to integrate this into your existing website.
So that's how you add a single unique page to your website, let's look at how you would add a whole section of pages (customer case studies, knowledge base, etc) to your site.
Multiple Pages using Page Types
We've also streamlined creating a Page Type. Simply go into the configuration view of any existing page you have and you'll see this button:
Clicking that will enable you to create a new Page Type. Let's say we name it "Customer Case Study". Then when we go to create a new page, "Customer Case Study" is an option we can choose to instantly create the page: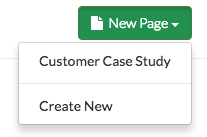 The video below gives you a full overview of creating a Page Type from an existing page:
Thank You!
A big thank you to our community who provided feedback and suggestions to help us shape this new feature. We hope you find it to be a delicious experience and welcome your thoughts!
Make sure you receive the freshest Butter product updates.
We're the #1 Rated Headless CMS
Related articles
Don't miss a single post
Get our latest articles, stay updated!