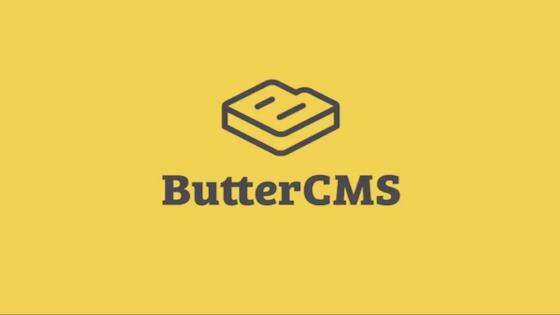 Dashboard Enhancements for Blog Posts, Pages, Previews, and Components
Posted by Jake Lumetta on December 8, 2020
We're excited to tell you what we've been working on in November!
Blog Posts and Pages Dashboard
You might have noticed a couple of big updates that we've made to our dashboards. We totally revamped our Blog Posts and Pages dashboards, with a modern design and a much cleaner UI. They're cleaner, and we hope you'll agree they're more enjoyable to work with. Below I'll highlight a few of the key changes that we've made.
First of all, we've moved the search bar to the top of the page. If you click into the search bar, you can still take advantage of our powerful and advanced filtering capability where you can filter down on specific attributes of your Pages.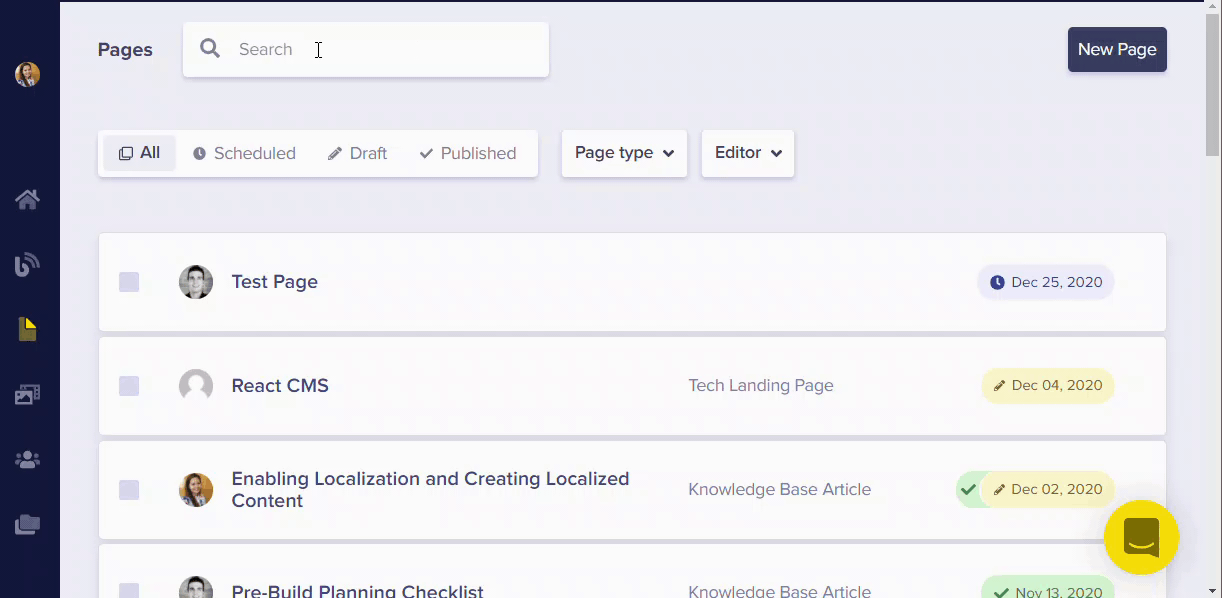 We've also updated the core control of filtering Pages based on the status of the Page - in terms of workflow, this is a really great enhancement!

By default, you will see all of your Pages. If you want to quickly view a list of your scheduled Pages to get a glimpse of which will be going live and when you can just click on 'Scheduled' and you'll see all scheduled Page(s). Similarly with drafts, if you have several drafts that you're working on or that are in progress with your team, you can easily filter down to see those. Finally, if you just want to see a list of all published Pages, you can click on the 'Published' filter. You can also filter by Page Type or Editor.
In terms of the actual row design for the Pages, it has a much cleaner design, and we reworked the presentation of the Pages. One cool new feature is that the date of the Page is based on the actual status. So, for example, if the Page is published, you will see the date when it was published in green. If a Page is a draft, you will see the last time the draft was updated in orange. And if the Page is scheduled, you will see the scheduled date in blue.
We made another cool enhancement to our powerful page versioning. You can now have a page that is published with a draft version. In the example below, version 1 is already published, as you can see by the green checkmark. Version 2 is still being edited, and the draft was last updated on December 2nd.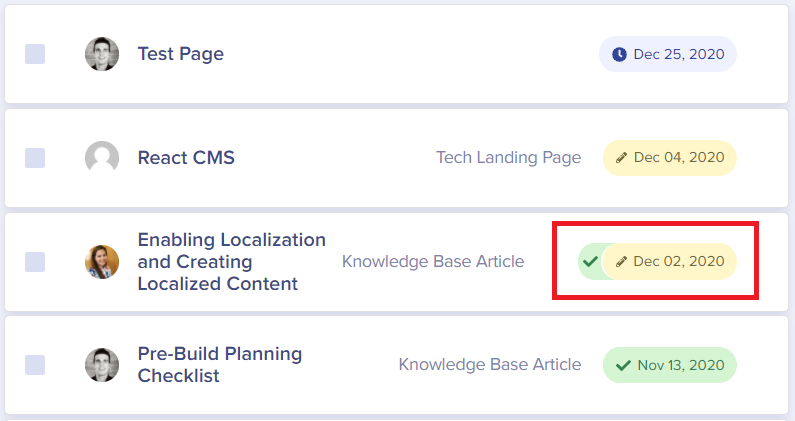 So we have some really nice enhancements in terms of UI, workflow, and presentation. Again, we applied these changes to your Pages dashboard as well as your Blog Posts dashboard. And, of course, we kept the bulk action capability so you can still select multiple Pages and publish or schedule them as a group.
Preview URLs
The next update is previewing. Anytime you create a new piece of content, you need to preview it to make sure it looks good before it's published. Previewing draft content is critical to the user experience for marketers and clients, and our new workflow makes this process much easier.
Previously, you had to set up previewing in multiple places throughout Butter, but now we've centralized it into one dashboard in the new "Previews" tab in Settings.
Just go in and set up the preview URL for Blog Posts, Single Pages, and all of your other Page Types.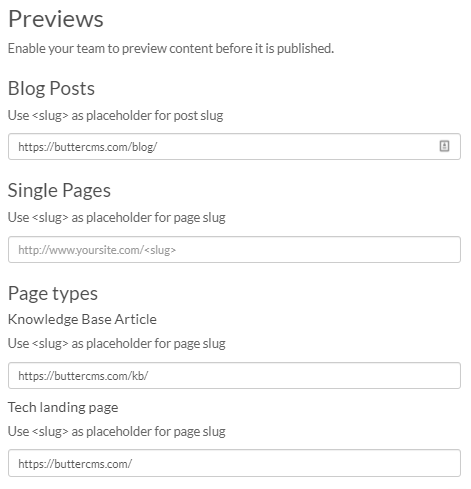 We've also added some nice operators or placeholders that enable you to insert the slug of the URL in a certain spot. If you are using Localization, you can specify where the locale is inserted to the URL as well.
Components and the Component Picker
The final update is a nice UI enhancement for Components, specifically the Component Picker. Our Component Picker allows you to create dynamic landing pages and more. Now you can simply click on the name of any Component to expand or collapse it. You can also click on the expand all button to expand all of the Components simultaneously.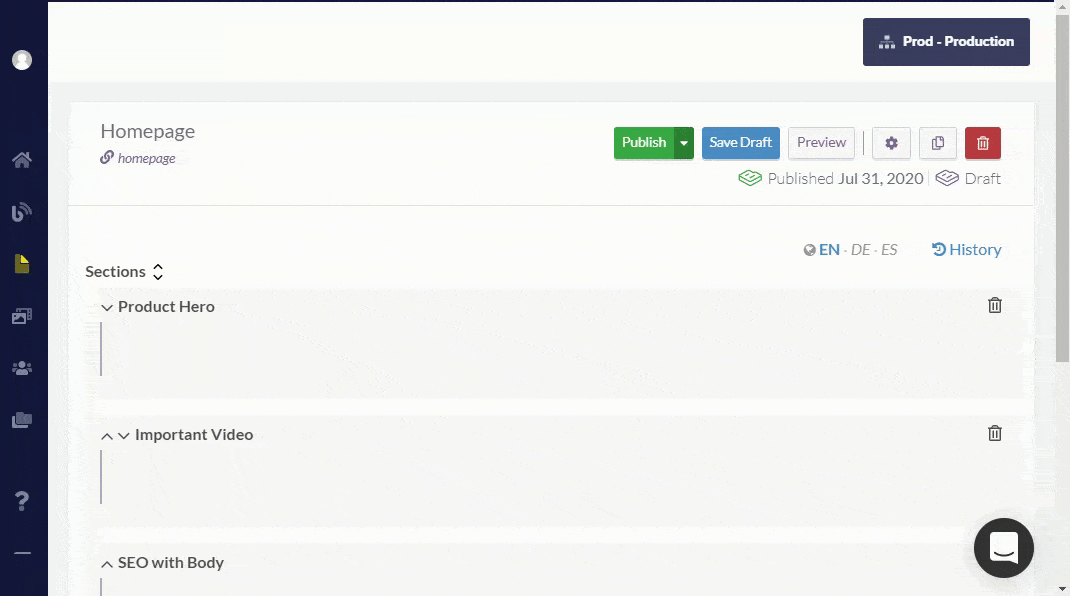 If you want to reorder your Components, you can simply use the arrows to the left of a Component's name to move that Component up or down.
This feature allows you to reorder entire sections of a Page. This gives marketers a new layer of control over their page layouts, and it's getting a great response from several teams.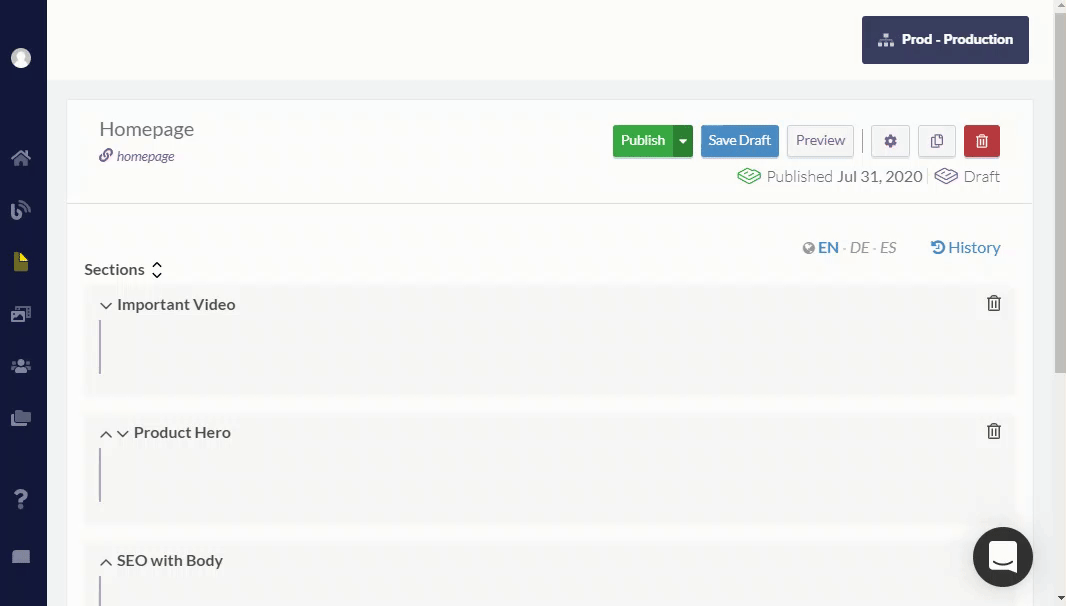 We have more dashboard improvements in the works, and you will begin to see a new aesthetic rolling out to different parts of the dashboards throughout ButterCMS over the next few months!
Don't miss a single post
Get our latest articles, stay updated!