Quickly Access Recently Edited Content in our New Dashboard
Posted by Jake Lumetta on October 8, 2020
Happy October! Very excited to tell you about some of the latest enhancements that we've shipped for you.
Quickly access recent content
The first thing I want to cover is we've launched a totally revamped dashboard. We covered this a little bit last month, but, what's new now is, once you become a customer of Butter, you now get a dashboard that looks like this: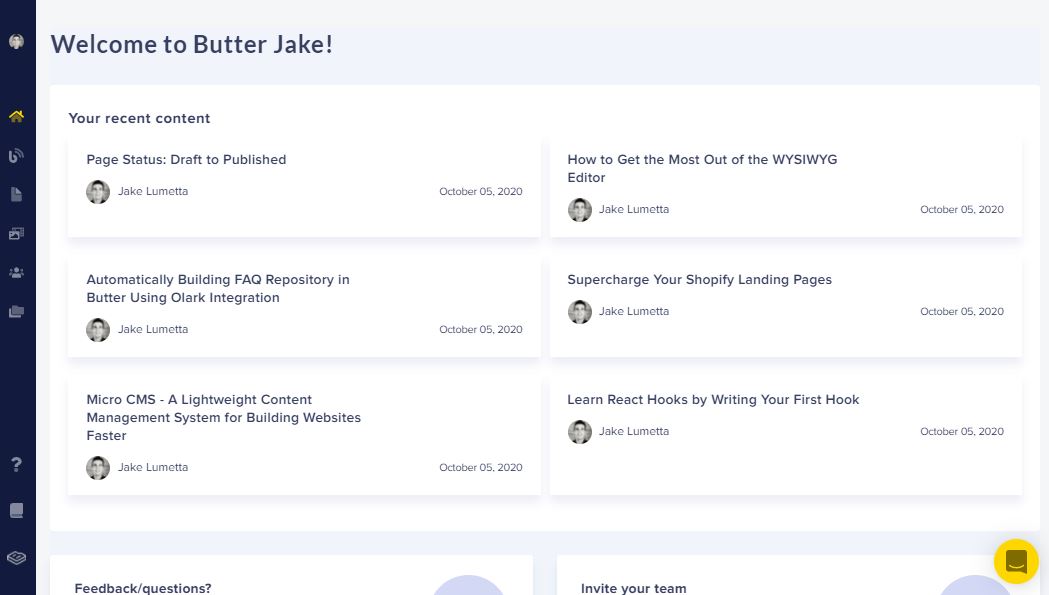 We feature the most recent content you've been working on, right at the top of your dashboard! It makes it super easy to focus on a particular page or getting a blog post piece of content out there. This will always show up right at the top of your dashboard as soon as you log in so you can quickly go back to your content.
We also show the latest product updates at the very bottom of your dashboard which will give you a really easy way to stay up-to-date on what we've been working on.

Added "updated" timestamp for your blog posts
Another cool enhancement that we've done is on the API front. It's a small one, but it's really nice! We've added an "updated" timestamp for your blog posts. So if you want to build a sitemap or if you want to show Google the meta-information about the exact time when a blog post was updated, you now have access to that and you can embed it to your site meta information. This will help boost your SEO when you're doing marketing efforts that focus on revamping and refreshing your content.
Improved the speed of Collections + Workspace dashboards
Another enhancement that we've done is focused on the performance of Collections. They work and behave in exactly the same way, but what we've done is we really sped up the loading time for the dashboard.
For customers that have a lot of Collections or a lot of content in those Collections, sometimes the dashboard can take a little while to load all that content all at once. So what we've done is we implemented a much more intelligent loading system to sequentially load your Collections to give you a much better and faster experience when working with your Collection content.
UX and speed enhancements
Another UX-focused improvement is for Pages. You can completely customize the content model of Pages and some of you may have built out really complex and elaborate Pages (which we love to see!). This naturally causes a Page to get somewhat long in terms of the vertical height of the Page with the number of fields on the Page. We know that it can get a little bit tedious when you would have a long Page and you happen to forget to fill in a field somewhere down the Page.
Previously, when you hit "Save Draft," we would let you know that there is an error, but you had to go and find that. Now as soon you hit "Save Draft," we'll show you which fields have an error and jump you down right to the field that has the error.
This is a nice little UX improvement that will hopefully save you even more time whenever you run into the error that you happen to forget a particular field.
Enhanced password policy
Finally, we enhanced our password policy to include best-practices for your accounts. We take security very seriously so we're excited to roll that out and offer that to you as well.
Now you can have a much stronger password policy for all your users.
Thank you again for all your feedback and hope you're all doing well! Cheers!
ButterCMS is the #1 rated Headless CMS
Related articles
Don't miss a single post
Get our latest articles, stay updated!