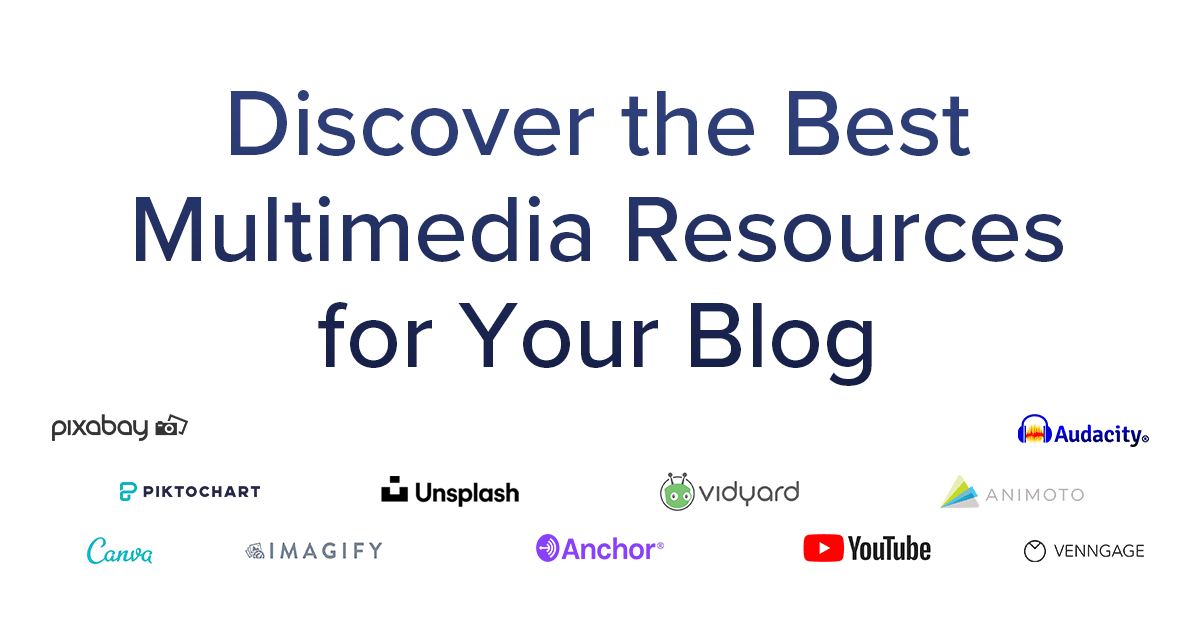 12 Top Multimedia Resources for Your Blog
Posted by Brigid Burt on January 7, 2021
Multimedia resources are a key element of a successful blog, whether you're using WordPress or a more modern and powerful headless CMS. Research shows companies that incorporate blogs in their content marketing strategy see an average of 67% more leads per month than companies that do not.
Amid a crowded field that keeps growing (500 million blogs and counting), marketers face stiff competition to attract, convert, and retain audiences. Using effective multimedia resources within blog content is one way companies can thrive in this competitive environment.
Content is still king in 2021
While a sound SEO strategy can help bring in new traffic, it's not the only lever companies should pull. Once a customer clicks and lands on a blog, the average time they are likely to read a post is just 37 seconds.
In short, people prefer skimming over reading. In an era of digital distraction, how do we rescue blog posts from the forgotten land of open tabs?
Adding Multimedia Resources to Your Blog
We can start by thinking of content as more than just words on a page. Multimedia components—such as video, audio, and infographics—are powerful magnets that work together with text to draw readers to your posts and keep them there.
Multimedia resources not only tap into a variety of human senses and learning styles, but improve vertical search engine rankings, social sharing, and on-page SEO.
Still don't believe us? Here are three quick stats backing us up:
So how can marketers expect to be a graphic designer, video editor, podcaster, and writer extraordinaire all rolled into one?
In this post, we've rounded up 12 easy-to-use multimedia resources that can jumpstart your multimedia strategy in no time.

Where to Find Free Images for Your Blog
Images command attention and convey information faster than text (by one estimate, 60,000x faster).
According to Buzzsumo, a blog image works best when breaking up walls of text once every 75–100 words. These posts receive 2x the amount of shares than articles with fewer images.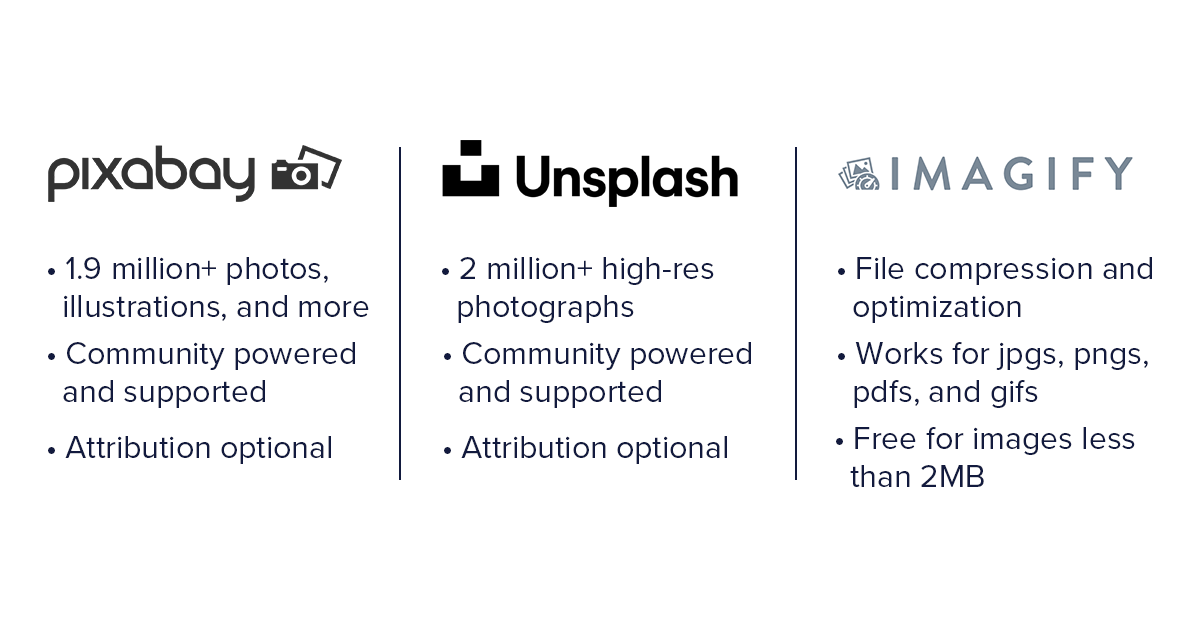 Luckily, we don't need to be professional photographers. Use these tools to download, compress, and optimize photos for your next blog idea:
1. Unsplash
Boasting a catalog of over 2 million high-resolution photos, bloggers can find beautiful images from a community of professional photographers in seconds.
They don't skimp on categorization either. If stuck on what to choose, simply hit the search bar or browse by topic (history, health and wellness, arts, etc.)
2. Pixabay
Pixabay houses a wide swath of photos and suggests search terms based on popularity below the search bar.
To gather more supplies for a blog splurge, opt to search through their collection of multimedia resources including vector graphics, illustrations, and high-resolution videos.
Note: Though both Unsplash and Pixabay don't require image attribution, it is important
to give photographers credit while backlinking to the image. Please see both Unsplash and Pixabay licensing policies.
3. Imagify
Images can eat up 50% of your loading time on your website. Not so great for SEO.
Compressing images with Imagify not only helps your site load more quickly but gives search engine robots a smoother ride when crawling your website.

How to Make Infographics for Your Blog
While blog images hook your readers' attention, infographics can reel them in with digestible information.
By combining the right amount of colors, shapes, and text, infographics summarize your blog posts in one bite-size piece that can deliver powerful takeaways.
Infographics also travel far. They are liked and shared on social media 3x more than other forms of content.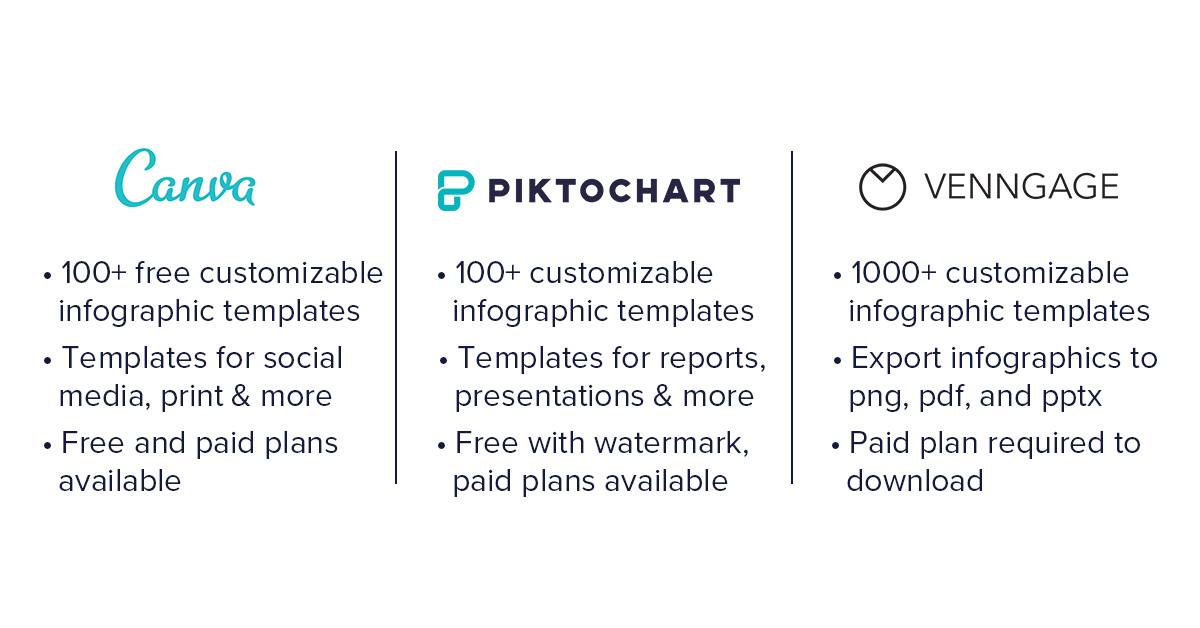 We aren't all blessed with graphic design skills, but the following tools can help make the task less daunting:
1. Canva
Aside from being a one-stop shop for almost anything related to design, Canva has a wide array of plug-and-play templates to pick and choose from. Their editing tools are intuitive, making customization simple and easy.
When finished, you can download your graphic in jpg, pdf, png, or pdf.
2. Piktochart
Similar to Canva but narrower in scope, Piktochart delivers on ease of setup. Its UI doesn't overwhelm with options and it's fully customizable with the choice to import data from Google Sheets, Survey Monkey, and Microsoft Excel.
3. Venngage
Like the previous two tools, Venngage is chock-full of infographic templates and recommends ones based on questions answered on account set up. It boasts a well-categorized sidebar that allows the user to pick an infographic format (informational, timeline, geographical, etc.) for their marketing needs.
The only downside is that—unlike Canva and Piktochart—you need a premium account to download the finished product.
Free Video Sources for Your Blog
Video shooting, hosting, and sharing has come a long way since the first YouTube video was uploaded in 2005.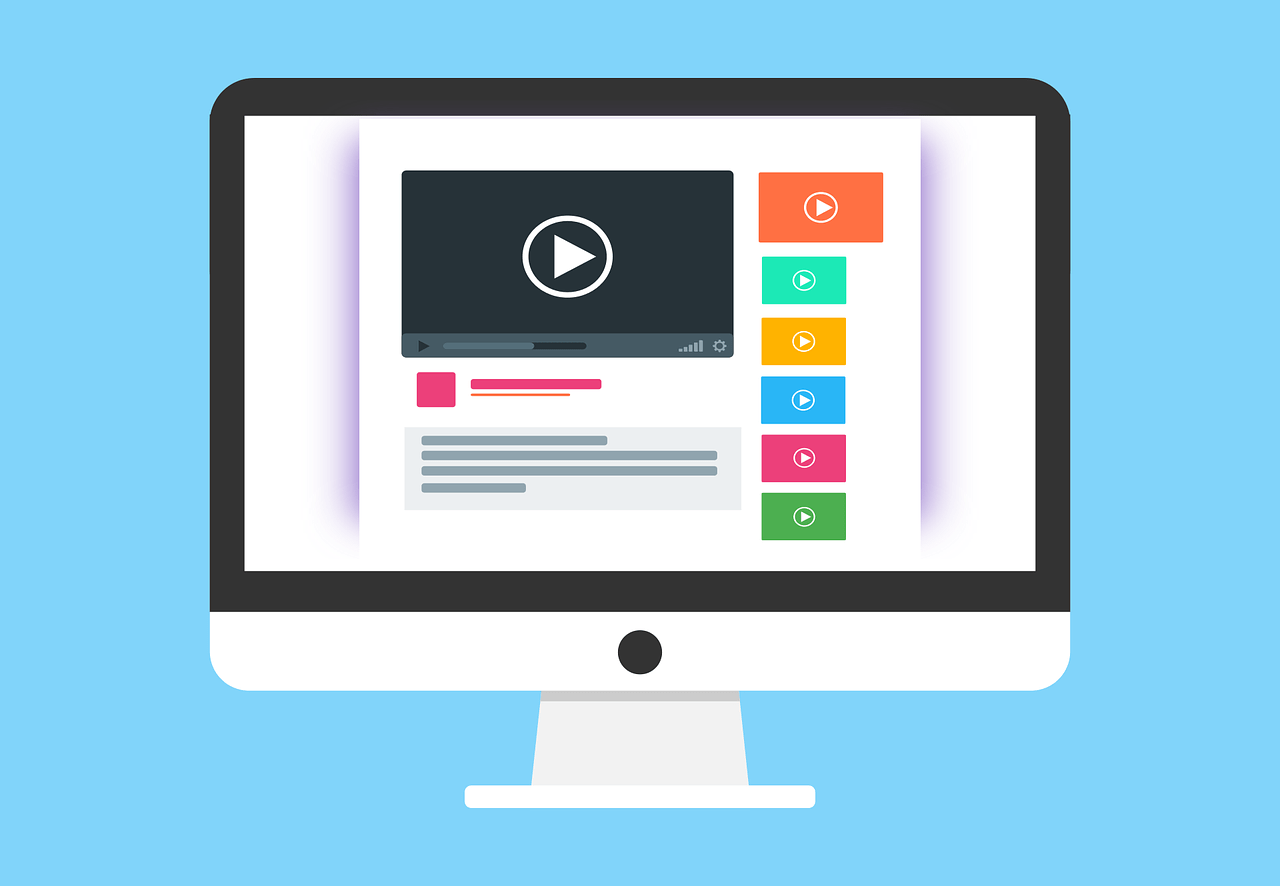 So, how can we turn into filmmakers overnight? Luckily, there are innovators who have thought ahead of the curve.
1. Video Script Timer by Vidyard for pre-production
This wonder tool tells you how long your script will take to record and saves time in post-production edits. Just copy and paste the text and it will estimate the time. Script Timer in a sense acts as an editor for those who have a tendency to ad-lib or overindulge on dialogue.
2. Animoto for video production
Need something in a pinch that doesn't require advanced training in Final Cut Pro X or Adobe Premiere Pro?
Animoto is a highly intuitive drag-and-drop video editor with ready-made templates. Like infographics tool Canva, it allows you to fully customize text and graphics. Most importantly, no video editing experience is required.
3. YouTube for distribution
As far as video hosting and sharing goes, YouTube is still king. Holding the number one spot for most web traffic in the U.S. (1.6 billion visits per month), it doesn't show signs of stopping. Embed a video and see your core audience through robust analytic tools.
Tools to Embed Audio in Your Blog
Audio used to be considered the new kid on the block, but it's quickly catching up with the key multimedia players:
In 2019, Google started indexing podcasts and adding them to their search results. This move officially certified them as SEO-worthy and coined the new term,

"Podcast SEO."

As of 2020,

37% of Americans

listened to a podcast monthly. That number has grown 54% in three years.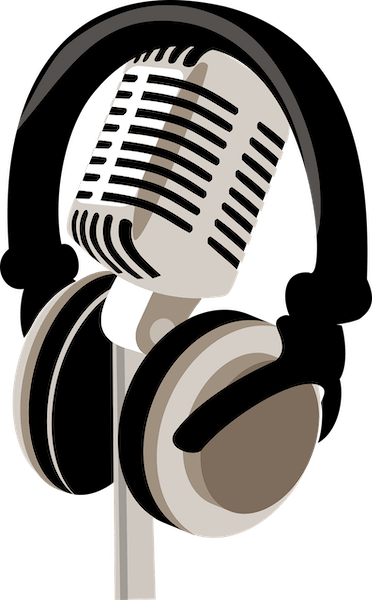 Our top 3 picks to up your audio game:
1. Audacity for recording and editing
Audacity is optimal for beginners who want to experiment with audio and not spend too much money on a microphone. Free and open source, it has simple copy, cut, and paste editing tools while also featuring tools to eliminate background noise.
2. Anchor for recording and distribution
Acquired recently by Spotify, Anchor is a phone-ready recording and one-click distribution platform that also features options to monetize podcasts. It recently released a feature allowing podcasters to use full-length Spotify tracks in their podcasts.
3. VoxSnap for a no-frills solution
VoxSnap is an excellent alternative if marketers can't set aside an entire podcast for their brand. It takes written text (i.e. blog posts) and transforms it into audio content. An all-in-one platform, it also offers an embeddable player for your posts and marketing analytics.
A Note About File Sizes and SEO
Now that we've gone through the top 12 multimedia resources for your blog, you may be wondering if all of this content will overload your website and bring it to a halt. Large file sizes can slow page load speeds, which can hurt your SEO rankings.
Luckily, ButterCMS can allay your worries: Its global cloud-based content delivery network (CDN) works to deliver assets as quickly as possible.
Butter CMS fully supports video, audio, and all of your multimedia resources. Be sure to check out our new advanced image editor, which gives you the power to create effective marketing images right inside our headless API-first CMS.
Wrapping it Up
In a world of data overload, we only have 37 seconds to capture audience attention.
To ensure content remains king in 2021, we must expand our definition of content to include popular multimedia resources such as video, audio, and infographics.
If we sprinkle our blog posts with at least one media type, we increase the chances that our messages will not only be read, but seen, heard, and hopefully, remembered.
In short, multimedia can save our blogs from being lost in a sea of open tabs.
Make sure you receive the freshest Butter product updates.
Don't miss a single post
Get our latest articles, stay updated!