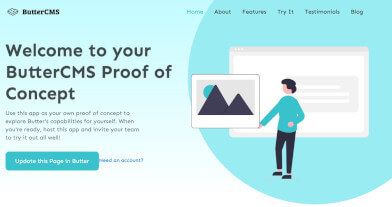 Launch a ButterCMS Proof of Concept in Minutes
Posted by Jake Lumetta on May 10, 2022
Announcing brand new starter projects for your favorite technology stacks.
Get your ButterCMS Proof of Concept app up and running in literally minutes!
If you're starting from scratch, or you want to hit the ground with a fast-implementing, easy tutorial, check out our new ButterCMS starter projects. Our starter fully integrates with dynamic sample content from your ButterCMS account and includes a beautiful, custom theme and already-implemented search functionality.
All of the included sample content is automatically created in your account dashboard when you sign up for a free trial of ButterCMS.
This project can be deployed to Heroku with the click of a button so that you can instantly launch a Django site that's fully integrated with ButterCMS. Just click the button below!
That's it for this month. Thank you for being a part of the Butter community!
Don't miss a single post
Get our latest articles, stay updated!