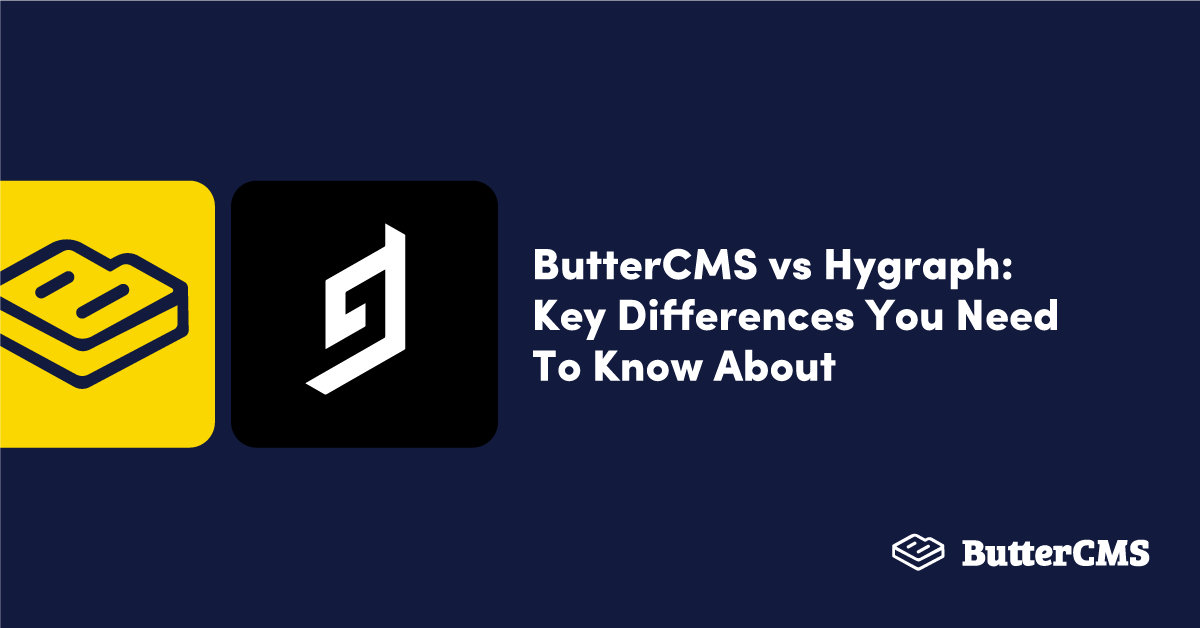 Headless content management systems (CMSs) like ButterCMS and Hygraph provide a new way of managing content for websites and applications. These platforms are designed to help developers and marketers quickly and easily create content-rich websites and applications without the need to worry about the underlying architecture. A headless CMS allows users to store content in a central repository, allowing for easier access to that content across different platforms. They also give users the ability to create custom content models that are tailored to their specific needs, further enabling users to create content faster and with more flexibility than ever before.
In this article, we will be comparing ButterCMS with another popular headless CMS option, Hygraph, from the perspective of a potential user. This is a highly comprehensive guide that is intended to help readers decide which CMS solution is the best option for their business and situation.
ButterCMS vs Hygraph: What will be reviewed
Before we delve in, it would be helpful to have a full grasp of what we will be reviewing. Here is a list of the features that will be considered in this guide.
Content creation
Content management
Publishing features
Developer experience
Marketer's experience
Ease of use
Migration
APIs and integration
Security
Customer support
Training and resources
Pricing
We will be analyzing the above features in detail with the ultimate aim of guiding any user or prospective user in picking a solution that better suits their needs as regards their desired features.
Content creation
The content creation process is an important factor to consider when choosing a headless CMS because it directly affects the efficiency and effectiveness of your content management system. A streamlined content creation process can help your team produce high-quality content more efficiently, while a cumbersome or convoluted process can hinder productivity and result in lower-quality content. A good headless CMS should offer tools and features that make the content creation process as smooth and intuitive as possible, such as a user-friendly content editor, version control, and workflow management.
ButterCMS content creation
ButterCMS provides a smooth content creation process with a variety of content types, including pages, page types, collections, components, and blog posts (namely from their drop-in blog engine). These content types can be modeled and defined by the user and include various fields such as text, images, dates, and much more. The core content types in ButterCMS are pages, blog posts, components, and collections.
Pages are typically used for dynamic or static content such as "About Us" or "Contact Us" pages, while blogs are used for creating, managing, and publishing articles or blog posts. Collections on the other hand are tables of data that you can reference from Pages while components are the building blocks of pages that you can configure to create dynamic and customizable landing pages. All these content types and fields work together by allowing you to structure and organize your content in a way that makes sense for your specific use case and easily access this content through the ButterCMS API for use on your website or application.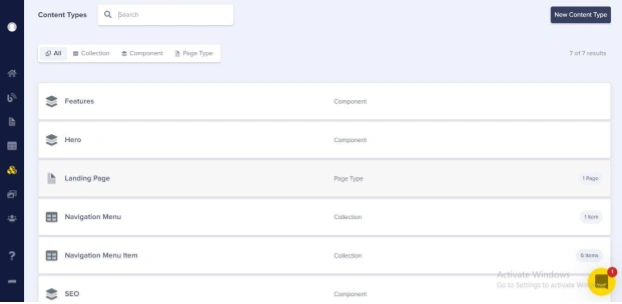 ButterCMS Content Type Dashboard
As mentioned earlier, the platform also includes a built-in blog engine that allows for the creation and management of blog content, complete with features like categories, tags, SEO fields, metadata, and author information hardcoded in. Overall, ButterCMS is a simple and flexible solution for managing and delivering content.

ButterCMS Blog Posts page
Hygraph content creation
Hygraph offers models as the core content types, which are used to define the structure and fields of your content. Users can create and customize their own models, which can include fields of various types, such as text, images, and references to other models. The models you create in Hygraph serve as the blueprint for your content, and the fields within those models are used to store the actual data. When creating new content items, you'll fill out the fields of a particular model with your data.
Content Management
Content management is an essential part of any headless CMS. It allows users to manage and control their content across multiple channels. Without content management, the user would be unable to effectively manage and control their content in these channels. When selecting the right headless CMS for your business needs, the content management feature is an essential feature to check out.

ButterCMS content management
In addition to ButterCMS user-friendly interface for content creators, ButterCMS provides great features for content management. These features include asset management, an approval process, and version tracking that enable teams to build custom digital experiences with ease. We will delve into these features in more detail, explaining how ButterCMS can streamline and simplify the content management process for teams.
Asset management
ButterCMS's asset management tool is a digital asset management (DAM) solution that allows users to easily store, manage, and deliver their digital assets. The DAM solution has several amazing features including automatically compressing images, and mobile responsiveness that lets you upload images once and then generate a large array of those images, it also gives the flexibility of in-App image editing that allows users to crop, resize, and optimize images for their websites.
With ButterCMS, users can quickly add new assets to their site, as well as manage and organize existing ones. Users can also set permissions for different users and teams so that only certain people have access to certain assets. Overall, the asset management feature in ButterCMS provides a convenient way for users to manage and organize the multimedia content of their websites.
Approval process
The content approval process in ButterCMS can be customized to fit the needs of the user. One common approach is to use a two-step approval process, where the first step is for an editor to review and approve the content, and the second step is for a manager or administrator to also review and approve the content before it is published. This approach ensures that content is thoroughly reviewed by multiple parties before it is made live on the website.
Version tracking
ButterCMS has a built-in content version tracking feature that allows users to view and revert to previous versions of their content. This feature is useful for maintaining a record of changes made to content and for undoing accidental or unwanted changes. The version tracking feature allows users to view a history of all changes made to a piece of content, including the date and time of the change, the user who made the change, and a summary of the changes.
Hygraph content management
Asset management
Hygraph has a centralized asset hub that provides content creator control access to digital assets including images, files, videos, and any other documents. It leverages asset management tools that can help you manage, edit, and publish information, as well as keep track of where it is in the workflow and who edited what.
Approval process
Like ButterCMS, the content approval process in Hygraph can be customized to fit the needs of the user, but with Hygraph it is built on top of the roles and permissions feature, where certain users are granted the authority to publish content while others can only edit or view content. It allows teams to have different levels of access to the content. Depending on their role, users can have access to certain sections of the CMS, certain environments, and even certain fields on a certain content type.
Version tracking
Unlike ButterCMS, Hygraph version tracking is more of a live versioning that allows users to make changes to content with a single click and revert back if necessary. This isn't as flexible as ButterCMS.
Publishing features
The ability to quickly and easily publish content to various destinations allows organizations to effectively reach their target audience and is another factor to consider before settling for any products. Publishing ensures that content is up-to-date, accurate, and allows for easy testing and iteration.

ButterCMS Publishing Features
In this discussion, we will delve into the automated publishing, content scheduling, and multi-language publishing features of ButterCMS, a content management system. These features make it easier for users to create, manage, and publish content for their websites and applications, with support for different types of content including blog posts, pages, and custom content types.
Automated publishing
ButterCMS has an automated publishing system that can easily be set up for individual pieces of content or an entire collection of content. It also allows for automation such as setting up drafts and scheduled posts so that the content can be reviewed and edited before going live. Additionally, it allows for triggering specific events based on the state of the post, such as sending notifications, updates to other systems, etc. An automated publishing feature is a useful tool for organizations that need to maintain a regular and consistent content publishing schedule, and it helps to streamline the content creation and publishing process.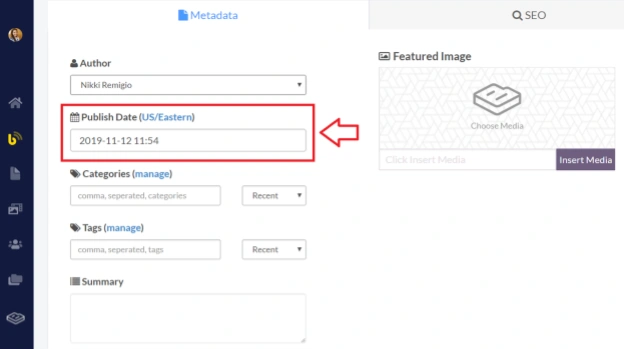 ButterCMS Post Scheduling
Content scheduling
With ButterCMS, it's quite easy to schedule a certain day and time for your blog entries and pages to go live. This feature allows users to organize their content in advance and ensures that new content is published on schedule, without the need for manual intervention.
Multi-language publishing
One unique feature that makes ButterCMS stand out is the translation and localization of content. ButterCMS provides support with content localization. You may translate the same amazing content using localization for each language or region that you want to support. ButterCMS provides a Write API which helps you to easily automate and manage the translation of the content.

ButterCMS Multilingual Support (Locales)
Hygraph publishing features
Automated publishing
Like ButterCMS, Hygraph allows users to schedule the publication of content at a specific date and time. Additionally, Hygraph allows users to create and manage multiple environments, so that the content can be staged, reviewed, and edited before it is published to production. Hygraph gives you huge publishing flexibility that can help build specific and customizable workflows to guarantee nothing is put live without adequate vetting.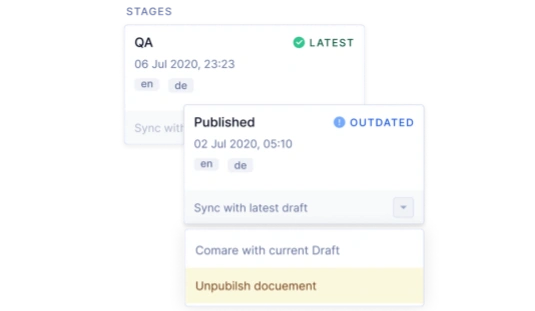 Hygraph Stages and Automated Publishing
Content scheduling
Hygraph has a content scheduling feature that allows users to schedule the publication of content at a specific date and time. This feature allows users to plan and organize their content in advance and ensures that new content is published on schedule, without the need for manual intervention.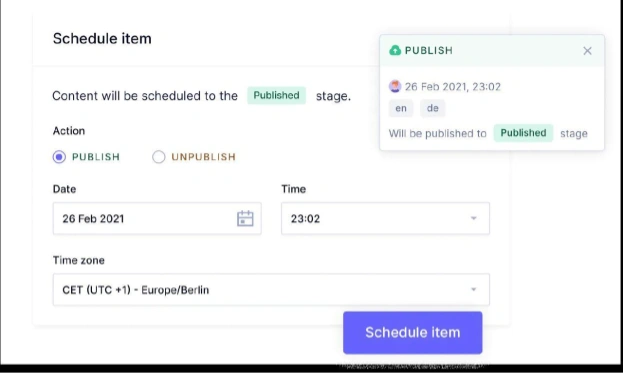 Hygraph Content Scheduling
Multi-language publishing
Users using Hygraph can create content based on just one or for different locals. In Hygraph, locale-based publishing allows teams using multiple locales to publish content. This way, you can ensure that your content is properly translated and localized for your audience, and you can manage your content in one place while it is being translated by the team.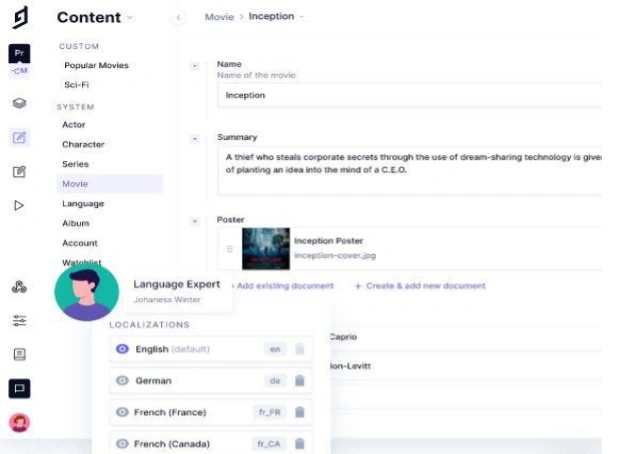 Hygraph Multilingual Support
Developer experience
Good developer experience is essential for the success of a headless CMS. Developers need to have a good understanding of the platform and its capabilities. This means having an intuitive and well-documented API and user interface, as well as clear documentation and resources that are easily accessible, which are essential features to check when picking a CMS to work with.
ButterCMS developer experience
The developer experience with ButterCMS is generally considered to be straightforward and simple. The platform provides a wide range of features and functionality for creating, managing, and delivering content, and the API is well-documented and easy to use. Developers can quickly innovate and produce compelling experiences by utilizing ButterCMS's built-in mobile support and API-first design for content delivery.
SDKs
ButterCMS content is served through their SDKs (software development kits) which are available for multiple programming languages like Node.js, Python, Ruby, and others. These SDKs provide a set of libraries and tools that you can use to interact with the ButterCMS API and easily retrieve and manage your content. With these SDKs, you can easily integrate ButterCMS into your existing application, allowing you to quickly and easily manage your website's content without the need for a separate interface.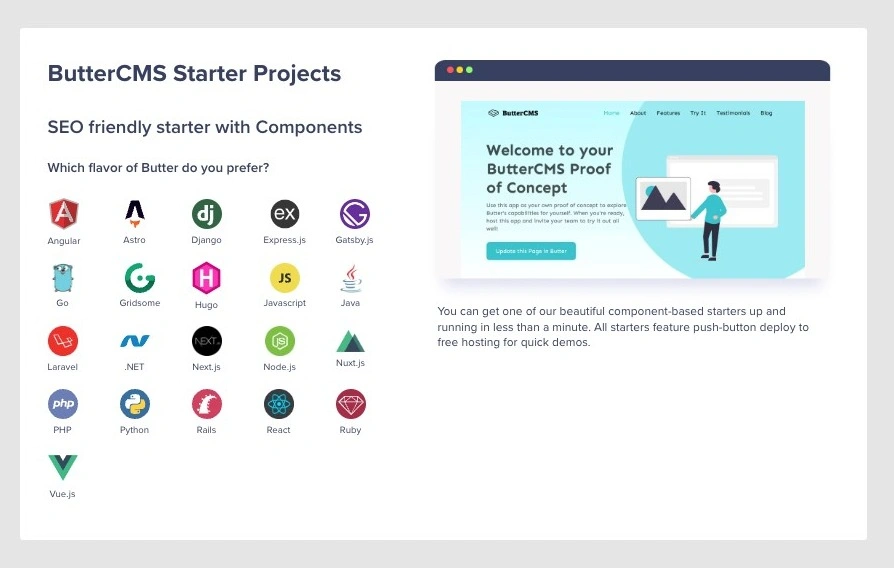 Web framework
ButterCMS is a very popular choice among developers for building robust, scalable, and high-performing web applications. ButterCMS also supports more frameworks and languages than other headless CMS options. Developers can use this platform to support a wide variety of web frameworks, including REST, HTML templating, JavaScript, and in-process Java. Through flexible APIs, developers can simply alter backend functions. This offers smooth platform connectivity with third parties. You can manage several websites and different environments using ButterCMS Multisite from a single location. You may simply switch between your ButterCMS instances and access the admin-level view.
Preview in staging environment
ButterCMS allows you to preview your website's content before it's published with a feature called Preview in Staging Environment. This feature allows you to make changes to your website's content through the ButterCMS interface and see a preview of those changes in a staging environment before pushing them live to your production site. The preview feature uses a unique URL that you can share with your team for review without affecting the live version of your website. This makes it easy for you to collaborate with your team and make sure your website's content is perfect before publishing it. Additionally, ButterCMS also provides a way to schedule publishing which makes content publishing more efficient. With Preview in Staging Environment, you can be confident that your website's content is accurate and error-free before it's seen by your visitors.
Hygraph developer experience
It provides developers with a straightforward, intuitive interface that allows them to quickly create, manage, and customize websites. However, only a GraphQL API is offered by Hygraph. You must therefore define your schemas before using them. The platform also exhibits inconsistent behavior on the API side and has a few small problems. Other headless CMS platforms offer REST and GraphQL APIs so that developers can pick the one that best suits their needs.
SDKs
Hygraph provides a range of SDKs that allow developers to easily interact with the Hygraph API and build a custom integration with their applications. The Hygraph SDKs are available for a variety of programming languages, including JavaScript, Python, and Go, making it easy for developers to choose the language that best fits their needs. With Hygraph, developers can easily create, retrieve, update, and delete the content as well as perform other tasks such as managing webhooks and handling authentication.
Web frameworks
Developers can access Hygraph through a flexible and powerful GraphQL API. It is a fully hosted solution. It offers many features such as user-friendly content modeling, webhooks, roles & permissions, and support for multiple environments like staging, development, and production. It also provides easy integration with various front-end technologies like React, Vue, Angular, and Gatsby. However, one of its limitations is that custom logic for content management (such as server-side validation) must be handled outside of the platform. And when compared with ButterCMS, Hygraph has limited integration options as it offers only a GraphQL API.
Preview in staging environment
Hygraph also has a content stage feature that allows you to work with copies of your content for a flexible and powerful content workflow. It also has a preview mode that lets editors quickly preview changes without needing to publish.
Marketer experience
Marketers and content creators need to be able to quickly and easily create, manage, and update content, and a good headless CMS should provide an intuitive user interface that makes it easy to do so. It should also be flexible enough to accommodate a wide range of content types, including text, images, video, audio, and more. Finally, a good headless CMS should also provide the marketer with access to powerful analytics tools to measure the success of their content. All of these features help to create an enjoyable experience for the marketer, which leads to more efficient and successful content creation and management.
ButterCMS marketer experience
ButterCMS offers important features that focus on and solve marketers' pain points and these features are SEO configuration, analytics, and internationalization.
ButterCMS SEO configuration
One of the many reasons marketers seek a headless CMS is for SEO configuration. ButterCMS offers SEO configuration options to help marketers improve the search engine visibility of their content. The platform allows users to add and edit meta titles, descriptions, and tags for individual pages and blog posts, as well as customize URLs to make them more search engine friendly. ButterCMS also includes built-in XML sitemap functionality, which helps search engines discover and index new content on the website. Additionally, the platform provides integration with popular SEO analysis tools, such as Ahrefs and SEMrush, to help marketers analyze and optimize their content for search engines. Overall, the SEO configuration options in ButterCMS can help marketers improve the discoverability and ranking of their content in search engine results and ButterCMS SEO features stand out when compared to its competitor.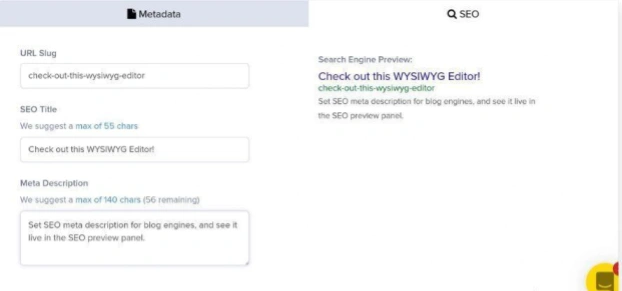 ButterCMS Metadata and SEO Fields
ButterCMS Analytics
ButterCMS does not have an internal analytics feature but provides a way to integrate with popular analytics tools such as Google Analytics and Segment, making it easy for users to integrate the analytics feature into their existing workflow. With this, users can get real-time data that includes page views, bounce rates, and referral sources. This information can be used to help optimize the user's content, improve the overall user experience, and increase the effectiveness of their digital marketing efforts.
ButterCMS internationalization
ButterCMS also has the internationalized routing feature of Next.js that helps you add translations to your application. With this feature, users can set up their website to display content in different languages based on the user's location or preferred language setting. This can be done by creating language versions of pages and specifying the language in the page's URL. ButterCMS's internationalization feature also includes language-switching tools, such as a language switcher menu and language selector buttons, to make it easy for users to switch between languages on the website. Overall, ButterCMS's internationalization feature provides an easy and convenient way for marketers to create a multilingual website and reach a global audience.
Hygraph marketer experience
The key features that enhance marketers using a headless CMS are SEO configuration, analytics, and internationalization.
Hygraph SEO configuration
In Hygraph, users can set up and customize various SEO-related settings and options, such as the website's title and meta tags to help improve the website's visibility and ranking in search engine results. The platform also provides tools for creating and managing XML sitemaps, which can help search engines even more easily discover and crawl website pages. In addition, Hygraph allows users to preview how their website will appear in search results and to analyze the website's performance and SEO-related metrics.
Hygraph analytics
Hygraph also provides analytics and reporting features to help marketers track the performance of their content. These features allow marketers to see content performance across the board. And with these data, they can make informed decisions about the effectiveness of their content and optimize their strategy to drive better results.
Hygraph internationalization
Hygraph also provides features that let marketers translate, publish, and manage content with different languages from one content piece. With Hygraph, users can set up a default language for their content and then create translations for that content in other languages. Overall, both ButterCMS and Hygraph provide great internationalization features.
Ease of use
Ease of use is an important factor when it comes to headless CMSs, as it will determine how effective the CMS is at helping users manage their content. A headless CMS should be intuitive and easy to use, making it easier for users to quickly find and manage content and make the most of the headless CMS. Additionally, an easy-to-use headless CMS will help users avoid making mistakes and help them quickly find and resolve errors.
ButterCMS ease of use
ButterCMS integrates perfectly with different tech stacks with comprehensive documentation that guides the setup process from the ground up. ButterCMS also offers a range of component-based starters that let you get your project up and running in less than a minute.
When it comes to ease of use, ButterCMS is in a class of its own. The platform's intuitive interface makes it simple to create and manage your content without any technical expertise required.
G2 recognized ButterCMS with the Easiest to Set Up & Best Usability awards. In addition to that, ButterCMS ranked #1 in the Best Usability Index. Generally, when comparing ButterCMS to Hygraph for ease of use, ButterCMS is generally considered to be the more straightforward option.
Hygraph ease of use
Hygraph offers a more complex and intricate user interface when compared to the ButterCMS user interface, and this is because its features can take more time to master. This is evident from users' feedback and reviews. However, Hygraph does offer a wide range of custom content types and integrations, allowing for more flexibility in content creation and management.
Content migration
It is important to ensure that all content is migrated correctly and accurately, in order to maintain consistency and accuracy. Content migration also helps to reduce the time and cost of re-creating content from scratch, as well as increase efficiency and productivity. This makes it another important feature to look out for before choosing a headless CMS.

ButterCMS content migration
ButterCMS makes content migration across your ButterCMS environment super easy. The feature allows users to easily transfer content from one platform or system into ButterCMS. This is highly essential for users who want to bring their existing content into ButterCMS. Users can easily migrate content from WordPress to ButterCMS or from any other CMS; the process is easy and stress-free. To make the migration process even more seamless, Butter enables you to build up a staging environment where you can manage material that needs testing before migrating to the production environment.
For multi-domain users, Butter supports multiple websites, enabling you to quickly import all the material from multiple sites into your new CMS. By using the Multisite dashboard, which is accessible from the main menu, you can manage all of your sites.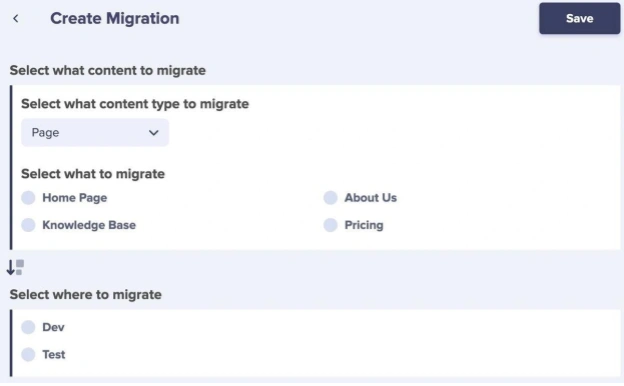 Content Migration within ButterCMS
Hygraph content migration
For content migration, Hygraph provides SDKs, APIs, and UI to make the process easier to create and manage your schema and content. This means that any content types or fields you add will immediately be available via the API.

APIs and integration
Integration is an important factor for a headless CMS due to its decoupled architecture. The integration allows for the headless CMS to work in tandem with the other systems and applications that make up the overall digital experience. This includes front-end frameworks, databases, and other API-driven services. Without integration, a headless CMS will not be able to deliver content to the end user.

ButterCMS APIs and integrations
ButterCMS makes it easy to integrate with your existing website or application using simple APIs and webhooks regardless of the developer tools being used. This makes it the perfect platform for developers who want to get up and running quickly without compromising on quality or features. One of the unique features of ButterCMS is its API explorer which shows users how to fetch any content from Butter. It shows what the response looks like and you get a real code snippet for users to try out.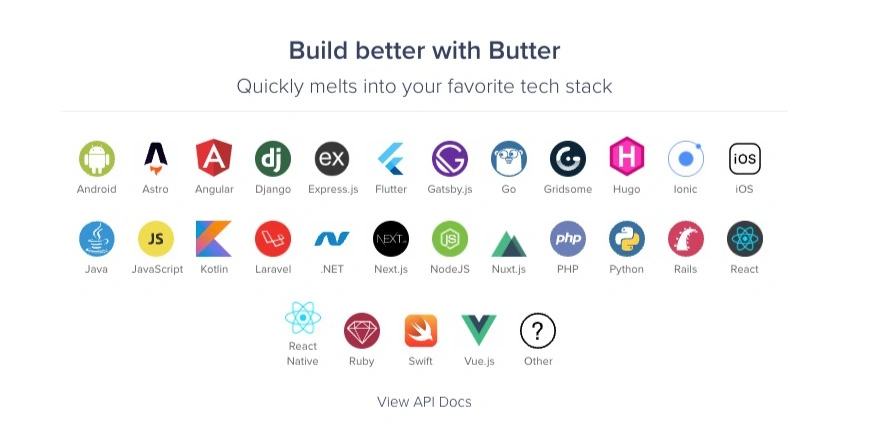 Tech Stacks Available for ButterCMS
ButterCMS also offers a wide range of custom API endpoints that can be used to integrate content into an application. ButterCMS provides an array of features for third-party integrations such as social media, analytics, and search engine optimization (SEO). With ButterCMS, developers can easily connect to third-party services and applications such as Zapier, Slack, Google Ads, and MailChimp. It also integrates with popular frameworks like React, Angular, Vue.js, and a host of others.
ButterCMS provides developers with a set of tools to integrate their apps with the underlying platform (e.g., iOS or Android). ButterCMS also provides open-source, well-documented SDKs for multiple platforms and languages.
Hygraph APIs and integration
Hygraph CMS is an open-source, self-hosted CMS that offers integration and extensionality with Vue.js, Remix, Svelte, Hydrogen, Next.js, Angular, and React.js. This, however, isn't as flexible as ButterCMS, since ButterCMS offers integration with a lot more stacks.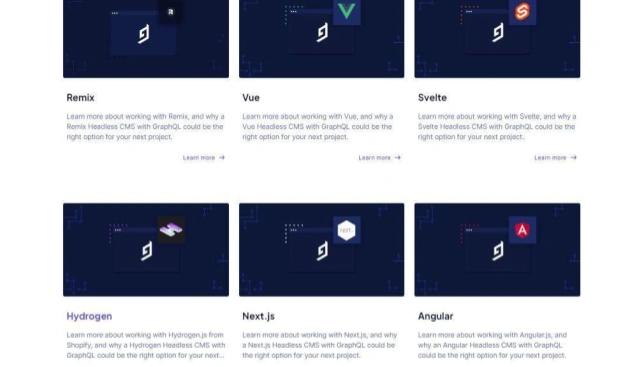 Hygraph available Tech Stacks
Their integration features include flexible API integrations, real-time data synchronization, automated data mapping and transformation, and powerful API connectors.
However, only the GraphQL API is offered by Hygraph. You must therefore define your schemas before using them. The platform also exhibits inconsistent behavior on the API side and has a few small problems. Other headless CMS platforms offer REST and GraphQL APIs so that developers can pick the one that best suits their needs.
Security
Security is essential for the protection of a headless CMS and the data that is stored within it. When choosing a headless CMS, it is important to ensure that the system is regularly monitored for potential threats and that appropriate measures are taken to protect the system from unauthorized access. Security should also be used to ensure that data stored within the system is secure and not open to manipulation or theft.
ButterCMS security
The ButterCMS platform also provides secure data storage and communication. All data is stored in an encrypted format and the platform employs a host of security measures to protect user data. These measures include user authentication, data encryption, secure storage, and more. The platform also provides users with the ability to control the sharing of their data, such as the ability to limit access to certain areas of the platform. Additionally, ButterCMS employs a strict policy of zero-knowledge security, meaning that user data is never stored in plaintext. Finally, ButterCMS also provides a two-factor authentication process for additional security.
For ButterCMS:
All data is transmitted over secure HTTPS connections.

All data is stored in encrypted databases.

Two-factor authentication is used to protect user accounts.

The platform is regularly monitored for security threats.

Advanced firewalls and intrusion detection systems are used to block malicious activity.

Backups are kept of all data on a regular basis.

Strict access controls are maintained to ensure only authorized personnel can access customer data.

Regular security audits and penetration tests are identified to identify and address any vulnerabilities. (They are in compliance with GDPR regulations.)
Hygraph security
The Hygraph platform uses a secure and encrypted backend to store all data and communications. All data is stored in an encrypted format, and the platform employs a host of security measures to protect user data. These measures include user authentication, data encryption, secure storage, and more. Access to the platform is also restricted to authorized users, and the system is monitored for suspicious activity. Hygraph also provides users with options to control the sharing of their data, such as the ability to limit access to certain areas of the platform.
Customer support
Another aspect to take into consideration before choosing a headless CMS service is the community support and the quality and accessibility of the documentation built around the service. By having customer support available, customers can quickly and easily get help when they need it, reducing frustration and improving customer satisfaction.

ButterCMS support
ButterCMS provides awesome live support with experts that guide users through every step, which is accessible to the public. Here, developers can ask about any issues they face while using ButterCMS and can even suggest feature improvements directly to the ButterCMS team. The Slack channel is made accessible at the enterprise level.
ButterCMS stands out in the industry with its well-known reputation for great customer support, this is openly mentioned in their G2 reviews.
ButterCMS has very detailed documentation and also maintains a blog, which not only has articles related to its CMS service but also about various features and implementations of the frameworks, their testing support, and many other topics.
Hygraph support
With Hygraph, the quality of support is rated at 9.6/10. Hygraph has an open Slack community where it's easy to build and chat with other users. The Hygraph team will offer full assistance in navigating any potential obstacles. They won't stop until you have resolved any problems or uncertainties you could be facing. Most of the time, you will receive your responses immediately via chat or a follow-up email the same day.
Training and resources
Training and resources provide developers with the knowledge and skills needed to effectively build and maintain digital experiences. It helps developers understand how to effectively use the tools, features, and technologies available in the CMS. This feature should be an essential one to look out for.
ButterCMS training and resources
ButterCMS offers a range of online tutorials, video tutorials, and webinars. ButterCMS focuses on its core features such as content management, content creation, and content delivery. In addition, ButterCMS provides resources such as FAQs, knowledge base content, and documentation to help users get started quickly.
Hygraph training and resources
Hygraph training, on the other hand, provides in-depth tutorials on its features such as workflow automation, data integration, and analytics. Hygraph offers a knowledge base with articles, code samples, and training materials. Hygraph provides a comprehensive training program with instructor-led courses, self-paced tutorials, and videos.
Pricing
Pricing is an important factor in a headless CMS since it impacts the bottom line of a business. Headless CMS pricing models should also be flexible enough to accommodate changes in customer demand and market conditions. Additionally, pricing should include features and services that customers value and can benefit from.
ButterCMS pricing
ButterCMS has a unique and innovative pricing feature that allows you to instantly upgrade or downgrade your subscription at any time. There are no contracts, no minimums, and no hidden fees. You can also change your account type from monthly to annual or vice versa without penalty. This makes it easy to budget for your content needs on a month-to-month or yearly basis.
ButterCMS handles CMS hosting, scaling, security, and maintenance within the monthly or annual costs. ButterCMS prices start at $0, and then range from $83 to $333/month for the pre-selected packages.
Furthermore, if you're not happy with ButterCMS for any reason, you can cancel your account at any time and receive a full refund. They don't lock you into anything, so you can always try them out risk-free.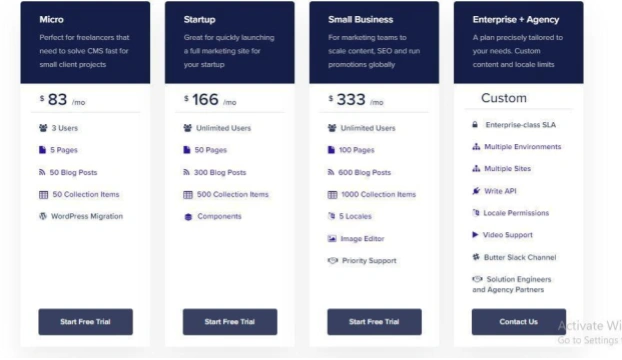 ButterCMS Pricing
Hygraph pricing
Just like ButterCMS, the Hygraph pricing starts at $0, and self-service starts from $299/project/month to a custom price depending on your needs.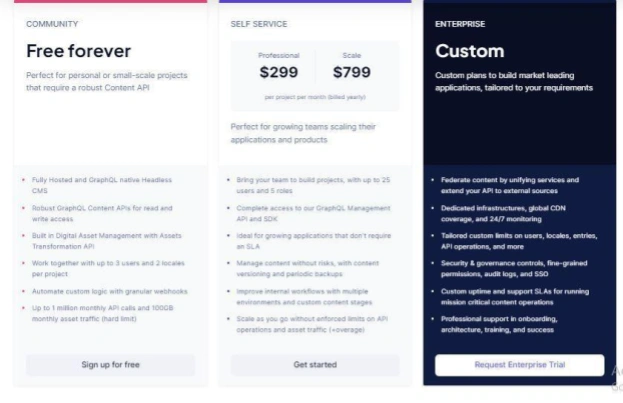 Hygraph CMS
Generally, ButterCMS is cheaper and it stands out with its money-back guarantee.
Final thoughts
Choosing the right headless solution for any team is difficult, but this article should have simplified it a bit so that you can choose a CMS solution best suited to your unique needs. In a nutshell, if you are setting up a headless CMS and you need a combination of great functionality, flexibility, and pricing, then ButterCMS (having support for all major development frameworks and tools) may be the best option for you. Users rate ButterCMS higher in terms of ease of use, meeting requirements, ease of setup, ease of admin, quality of support, product direction, content authoring, and content repositories. Compared to Hygraph, ButterCMS has a 4.7-star rating on G2 while Hygraph has a 4.2-star rating.
Generally, according to G2, users consider ButterCMS to be simpler to use, set up, and manage when comparing the two options. ButterCMS also seems to top customers' minds with much greater satisfaction, usability, and scalability. Overall, reviewers said they enjoyed working with ButterCMS.
Make sure you receive the freshest Butter product updates.
Don't miss a single post
Get our latest articles, stay updated!