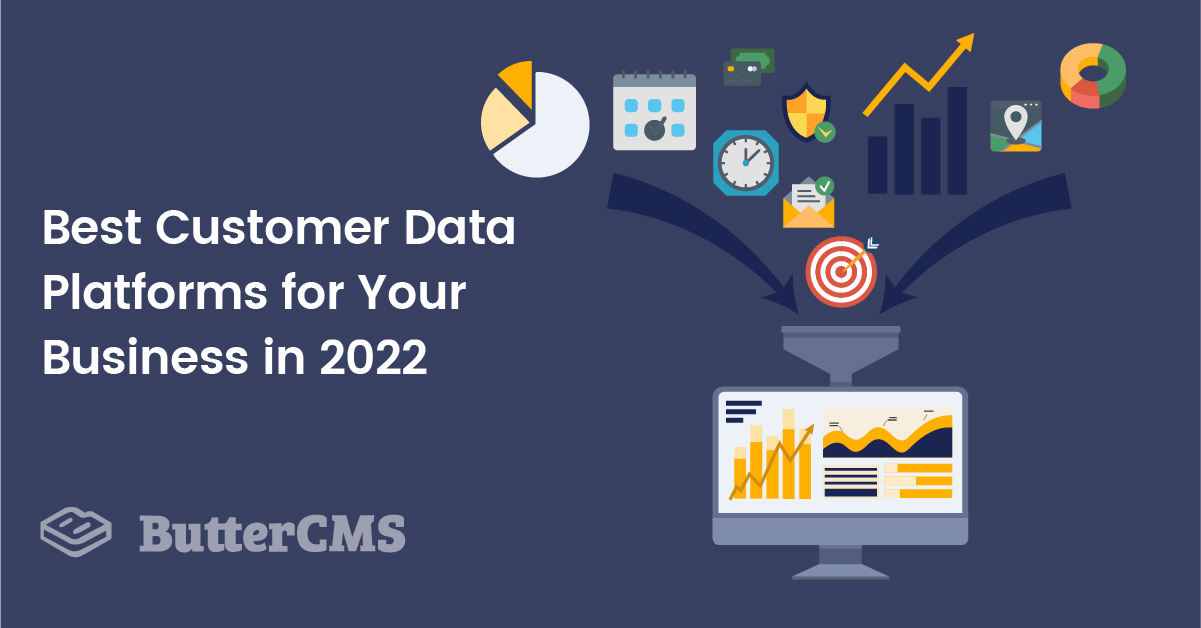 Best Customer Data Platforms for Your Business in 2022
Posted by Harcourt Hamsa on March 2, 2022
Data is life. It is arguably the bread and butter of any business. With the right data, businesses can make informed decisions that will eventually lead to growth. On the other hand, bad data can be detrimental. Case in point, Gartner's 2019 research found that the average financial impact of poor data on businesses is at least $15 million per year.
In recent years, there have been changes in consumer behavior. Consumers shop across multiple channels and multiple devices. They may find something online, interact with a website, and then head into a physical store to make the purchase. These omnichannel interactions make it hard for businesses to keep track of consumers' data while providing consistent interactions across channels. As a result, there is a need for a system that ensures customers have the same experience and ease of use across all your customer touchpoints.
What is a CDP?
CDP stands for Customer Data Platform. It is a tool that unifies a company's customer data from multiple channels and makes it accessible to other systems such as your marketing platforms and channels. All the while, it still provides the same user experience, thus acting as a single source of truth. At the end of the day, CDPs build a single coherent customer profile that can be accessed by other systems to track and manage customer interactions.

The following are 4 main types of customer data that CDPs collect and organize:
Identity Data:

Identity data is the collection of highly sensitive information about a person, such as their name, address, or bank account number.

Descriptive Data:

Descriptive data supplements identity data and provides a more complete picture of your customer. The descriptive data categories will differ depending on the type of company. Career and lifestyle information such as what industry you work in, who your current employer is, and what type of vehicle you own are all examples of descriptive data.

Behavioral Data:

Behavioral data describes how people interact with your products or services. This gives you real insights that can help you anticipate your customers' needs and behaviors. Common sources of behavioral data include email, support desk records, and call center interactions.

Qualitative Data:

Qualitative data is the descriptive and conceptual findings collected through questionnaires, interviews, or observations. Examples of qualitative data include race, ethnicity, religion, native language, etc. Analyzing qualitative data allows us to explore ideas and further explain quantitative results.
Who should use a CDP?
It is a common misconception that CDPs are just for marketing teams. While marketing teams are the primary users of CDPs, it is not limited to just them. Businesses and individuals alike can benefit from using a CDP. The following are cues that indicate if you need a CDP or not:
Handling a lot of data from multiple sources

Data integrity and security are vital for your business

Delivering personalized user experiences to customers
If you find yourself in any of the categories above, chances are CDPs are your best bet. This is because CDPs not only use first-party data but also third-party data which opens up a world of new possibilities for businesses. Furthermore, CDPs use all available data from first- and third-party sources to generate a single coherent customer profile that offers a unique and optimized digital experience for each client.

What are the benefits of using a CDP?
A CDP is a versatile tool that has a variety of uses. Below are some reasons why a CDP might be beneficial for your business:
Better data collection and storage
Since CDPs act as a central database for customers' data, they are a good tool to collect data from different customers' touchpoints and consolidate them into unified customer profiles.
Predictive analytics
Predictive analysis is a statistical technique that employs machine learning and data mining to anticipate and predict likely future events using historical and present data. With the help of CDPs, businesses can make these analyses with ease. This is due to the fact that CDPs combine Artificial Intelligence (AI) and Machine Learning models with pre-built analytic models, as well as an algorithmic model generated from earlier datasets, to reveal insights.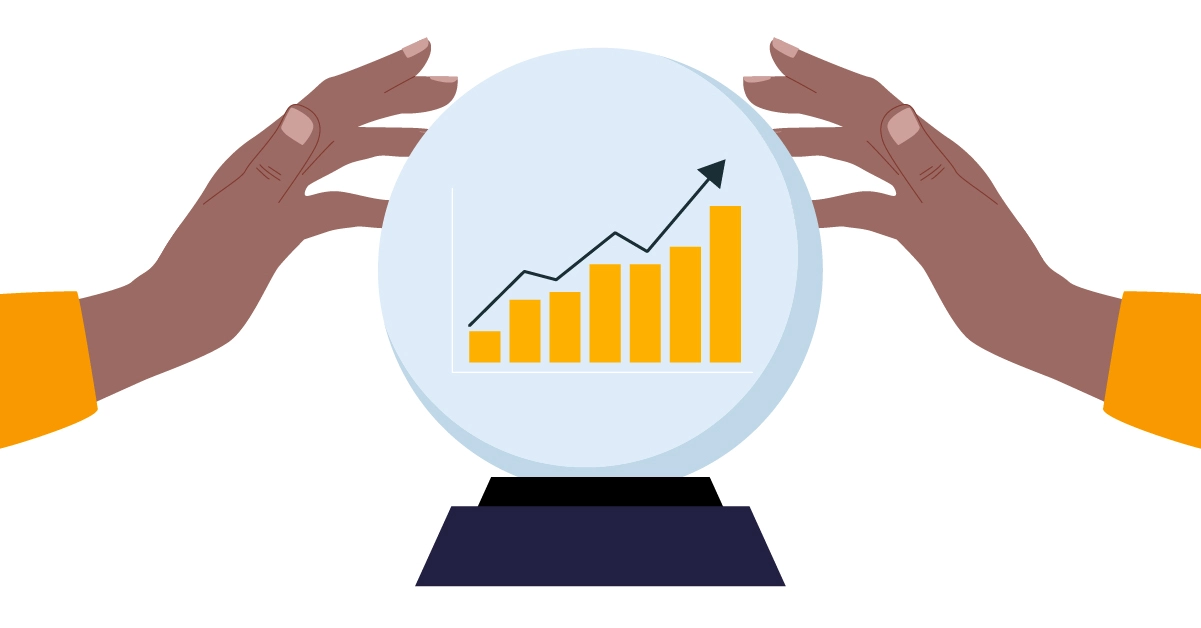 A CDP may be used to run predictive models on top of your Marketing Technology, popularly known as MarTech, to transform your big data into meaningful insights that influence marketing choices. The best part is that many CDPs, such as Bloomreach, Insider, and Segment (to name a few), provide built-in analytic capabilities which cut down on the time and effort required to generate these same results if done manually.
Improved customer experience
According to a report by Segment, If brands fail to offer a personalized experience, 45% of consumers say they're likely to take their business elsewhere. It is easy to see how creating unique experiences for your customer's impacts revenue. Using CDPs can help you improve customer experience because it utilizes first-party data which is the foundation for personalization.
Stronger regulatory compliance
Adequate data governance builds trust. It builds the reputation of your business and establishes you as a brand that people can trust with their data. Since CDPs deal with a lot of customer data, data privacy is a big deal. This is mainly due to the increase in concerns on how customer data is being used. Businesses have to be transparent in how they collect, store and use customers' data. Several regulatory bodies such as the GDPR, CCPA, and HIPAA have been formed to enforce data privacy laws. Failure to comply with these laws could lead to financial penalties and a permanent loss of consumer trust.
CDPs limit the risks associated with non-compliance with data privacy rules by maintaining a durable database that stores the customers' data as well as how it was obtained and how it has been used. A common data flow is for CDPs to take data, organize it, standardize it, and ultimately normalize it into useful information. CDPs consolidate all data about a given client into a single profile. This alleviates much of the burden associated with data compliance because data isn't dispersed across several systems and silos. Having a permanent database also makes it easier for firms to satisfy Subject Access Requests, or SARs, when consumers seek them.
CDP vs CRM: What's the difference?
CRM stands for Customer Relationship Management. A CRM is a tool that helps businesses improve existing customer relationships. While a CDP is a tool that has a unified and persistent database from multiple channels and makes it accessible to other marketing technology (MarTech) systems. Both CRMs and CDPs are very similar and are easily confused with one another. Hence, there is a need to understand the differences between a CDP and a CRM.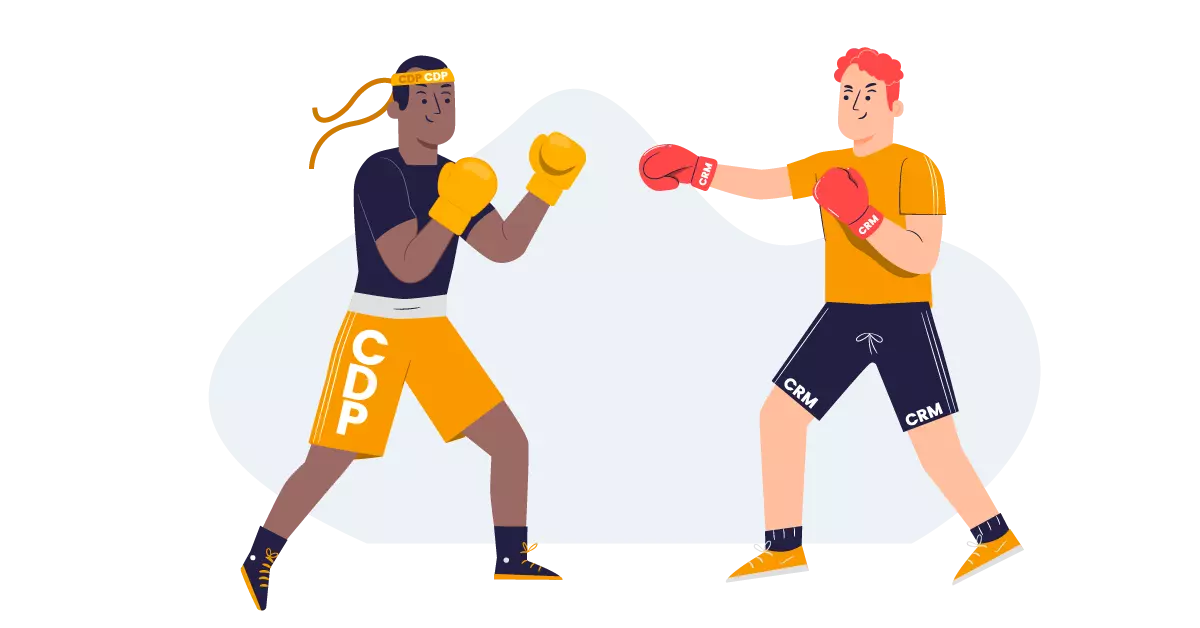 CRMs are generally utilized by customer-facing professionals, such as salespeople and customer service representatives, to manage sales-focused customer data such as revenue per sale, average customer lifetime value, and revenue by product. CRMs aid in the optimization of a company's one-to-one contacts with each known customer; yet, they are unable to track anonymous users.
CDPs focus on gathering and combining customer data from a variety of sources. They are designed for non-customer-facing professions such as marketing, product development, and management. CDPs bring in massive volumes of online and offline data because they're meant to collect data on the end-to-end customer journey. As a result, they can track an anonymous user.
What are the top CDPs?
There are plenty of options available, and picking the right CDP can be challenging. According to G2 Crowd, the following are the top CDPs:
Segment
Twilio's Segment is a well-renowned CDP with a reputation for creating the best single view customer profiles. Companies use Segment to collect, unify, and route their customer data into any system where it is required to better understand their customers and create smooth, compelling real-time experiences. You can also personalize your email campaigns with recommendations based on customer behavior.
According to G2, the following are some of the reasons why users love Segment:
Data modeling

Recommendations

Workflow management

Sensitive data compliance

Data distribution
Insider
Insider is a multichannel Growth Management Platform (GMP). It helps digital marketers drive growth across the funnel, from Acquisition to Activation, Retention, and Revenue. According to their official website, Insider connects data across channels, predicts future behavior with AI, and individualizes experiences from a single platform with the fastest time to value.
According to G2, the following are some of the reasons why users love Insider:
Application attribution

Campaign analysis

Proximity marketing

Email campaigns

ROI tracking
Bloomreach
Bloomreach is the leading Commerce Experience Cloud in the world. It provides a suite of products that promote true personalization and the growth of digital commerce. These are Discovery, which provides AI-driven search and merchandising; Content, which provides a headless CMS; and Engagement, which provides leading CDP and marketing automation solutions.
According to G2, the following are some of the reasons why users love Bloomreach:
Data import and export tools

Integration APIs

Customization

Workflow capability

Internationalization

Building, personalizing, and sending emails
Emarsys
Emarsys empowers digital marketing leaders and business owners with the only omnichannel customer engagement platform. Emarsys, by default, provides features like multichannel campaign management, personalization, segmentation, and analytics dashboards that help businesses achieve their desired business results.
According to G2, the following are some of the reasons why users love Emarsys:
Dedicated IP address

Revenue analytics

Custom tracking domain

mobile marketing integration

Data quality management
Klaviyo
Klaviyo is a data-driven marketing platform that enables organizations to provide more tailored experiences using owned marketing channels such as email, SMS, in-app alerts, and the web. Klaviyo interacts with consumer data sources natively and provides the technology to store data at scale, create experiences across channels, and assess its effects. Klaviyo includes several built-in capabilities such as one-click integrations, ROI-based reporting, website tracking, and so on.
According to G2, the following are some of the reasons why users love Klaviyo:
Manage email deliverability

Data import & export tools

Integration APIs

Workflow capability

Sending Outbound Emails
G2 provides a comprehensive list of the best customer data platforms (CDPs).

Headless CMS + CDPs: What are the benefits of this pairing?
A headless CMS is any content management system that decouples the content layer (also known as "backend") from the presentation layer (also known as "frontend"). A headless CMS makes content accessible via an API for display on any device without a built-in front-end or presentation layer.
There are two categories of headless CMSs. They are:
Git-based headless CMS
In a Git-based headless CMS, content is stored in files which are then updated and pushed to a Git repository. These operations are facilitated by service providers like GitHub or GitLab. An example of a Git-based headless CMS is Netlify CMS.
API-driven headless CMS
In an API-driven headless CMS, the CMS handles content management. The content can then be consumed by various applications through an API. An API-driven headless CMS is often preferred over its counterpart because of its little or no learning curve. An example of an API-driven headless CMS is ButterCMS
A headless CMS is very scalable and versatile. This is because it is platform-agnostic and future-proof, as you can easily integrate new technologies and advancements—which is especially important in an industry that changes so quickly. Due to its many benefits, pairing a headless CMS with CPDs is like a match made in heaven. One reason is that platform independence and free technology choices are not provided by traditional CDPs, but these things are readily available when CDPs are paired with a headless CMS like ButterCMS. Another reason is that businesses can carry out a/b testing at scale across different devices without having to make several different versions. This is made possible because a headless CMS stores all the different versions of your content that is readily available
What to keep in mind when choosing a CDP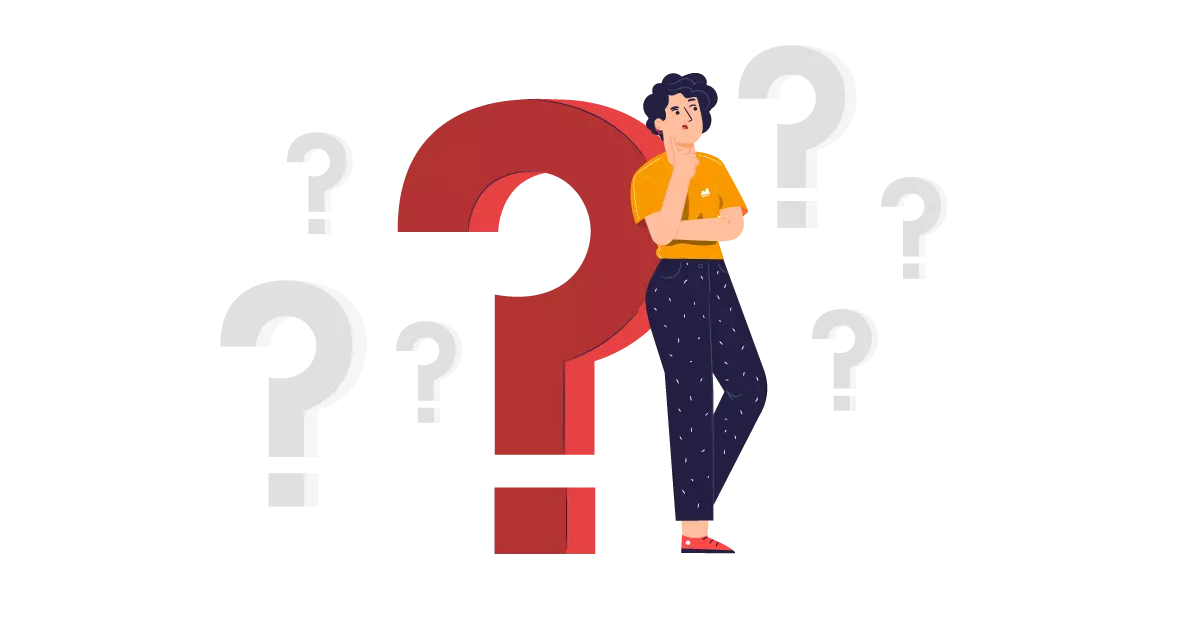 Finding the right CDP for your company isn't an easy process. There is an overabundance of CDP vendors on the market today. The following are things to keep in mind when choosing a CDP:
What is your use case?
Before you invest your time and money, think carefully about why you need a CDP and what it will do for your business. This can help you narrow your search down to those vendors who specialize in whatever your end goal is.
The following are a few use cases you may consider:
Aggregating online and offline data

Delivering a more personalized customer experience such as product recommendations

Creating more targeted multichannel advertising campaigns
Once you've defined what your use case is, spend some time studying the vast amount of CDPs available. As mentioned earlier, G2 has a comprehensive list of top CPDs, so it might be a good place to start. Once you've found a prospect, read reviews of their products. For example, if your goal is to deliver more personalized experiences across owned marketing channels, a CDP like Klaviyo might be your best option. On the other hand, if your goal is to create more targeted multichannel advertising campaigns, a CDP like Segment might be the right tool for the job.
How well can you integrate it with your technology stack?
A CDP should do more than meet your needs today: it should be able to handle the complexity of your business and scale with you. By default, most CPDs provide tools that can be used along with other tools to make a business's workflow smooth. Examples of such tools are email campaigns, monitoring, and a/b testing. Thus, before picking a CDP, consider the tools it provides and how well you can integrate them with your technology stack.
What security and data compliance features does it have?
CDPs act as a central database that stores data collected from customers across multiple touchpoints. Given the nature and amount of data involved, an ideal CDP should adhere to the highest standards for data security and compliance. The right platforms should come with rigorous security protocols and a dedication to privacy.
The following are security and compliance features that some CDPs have employed:
Data Quality Management

Compliance Monitoring

Data Unification

User, Role, and Access Management
The most common data privacy laws to be on the lookout for are GDPR and CCPA. By default, your preferred CDP should adhere to them.
Conclusion
Because it creates an accurate and consistent perspective on customer behavior, CDPs aid companies in understanding their customers at a holistic level. Data from a CDP is also more likely to be complete and up-to-date since it is collected directly from your customers and is unified from all data sources. CDPs help businesses improve the efficiency, effectiveness, and consistency of marketing campaigns and user experiences.
Choosing a CDP is a difficult task given the solution's intricacy. Taking careful considerations into account throughout your decision-making process, though, can help you choose the best CDP for your company and ensure a successful deployment.
You've done a great job completing this article! Up until now, we've talked about everything you need to know about a CDP. In the next article in this series, we're going to have hands-on practice on how to use a CDP with an API-first CMS such as ButterCMS.
Get the latest product updates and tutorials delivered straight to your inbox.
Don't miss a single post
Get our latest articles, stay updated!